In its just-released forecast for 2015, CNNMoney.com suggested a "ho-hum year" for stocks.
The popular news service even cited a Goldman Sachs Group Inc. (NYSE: GS) prediction that calls for a gain of less than 2% on the bellwether Standard & Poor's 500 Index.
As predictions go, this one is pretty mundane. And while folks who buy into this won't suffer actual losses, they will incur "opportunity losses."
You see, unlike the tepid forecasts of CNNMoney and Goldman Sachs, I'm forecasting a strong year for stocks - and especially tech stocks - in 2015. And folks who pick the "right" profit plays can do even better than the market.
Today I'm going to show you how to grab those market-trouncing gains - with three profit plays that appear tepid on their face, but are actually high-octane claims on the hottest slices of Silicon Valley growth...
Be a "Stock-Picker" Winner
This year has been a good one for U.S. stocks, with the S&P 500 up more than 12%. And folks who understood this was a "stock-picker's market" - meaning they chose the "right" winners - did even better.
And 2015 will be a good year for stocks in general - and will be even better for investors who hitch a ride with several hot tech sectors.
For the year ahead, I'm projecting a 7% gain for the S&P 500. I'm basing that on the U.S. economy's recent strong performance - and I'm being conservative.
For the third quarter, U.S. gross domestic product (GDP) advanced 3.9%, meaning the market beat it by threefold.
Global economists are projecting 3.5% U.S. GDP growth in the new year. Cutting the market's multiple down to 2 gives us a projected 7% return.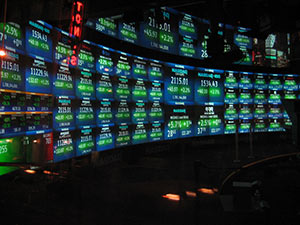 Of course, I strongly believe tech will do much better...
That's exactly what happened last year. The Nasdaq 100 crushed the overall market with gains of about 20% - or roughly 66% better than the overall market.
Along the way, there will be plenty of opportunities for tech investors to do better than that.
Much better.
In fact, Rule No. 5 of my five-part, tech wealth-building system can be used effectively in 2015. The rule says to "target stocks with the power to double."
As it turns out, it's not always about individual equities. In fact, the tech trends I'm watching suggest that three exchange-traded funds (ETFs) in particular meet that rule.
The great thing about ETFs is that you get a lot of potential upside while also greatly diversifying away your risk. But because these three ETFs are "focused," they let you play an entire sector with a single cost-effective investment.
And thanks to the three sectors we've chosen, I believe these are funds that could double over the next three years or so.
The bottom line: These are three tech ETFs that every investor should own.
Let's take a look. And we'll start with one of my favorite double-your-money profit plays - biotech.
2015 High-Octane Tech ETF No. 1: First Trust NYSE Arca Biotechnology Index
Biotech has been on an out-and-out tear over the last two years. And the First Trust NYSE Arca Biotechnology Index Fund (NYSE Arca: FBT) has proved a great way to ride that trend.
During that period, FBT has returned 124%. That's more than double the S&P's two-year profits of 47%. But don't worry, I think it can still double again from here.
After all, this fund offers broad exposure to both cutting-edge compounds and established drugs that generate steady cash flow. FBT holds 30 stocks - in roughly equal portions - in its portfolio.
The fund balances large caps with enough smaller ones to lower the median market valuation to roughly $7.2 billion, still small enough to offer plenty of upside.
One of FBT's big winners is Gilead Sciences Inc. (Nasdaq: GILD). The company released a new drug to combat hepatitis C a year ago, Sovaldi, which has already notched nearly $9 billion in sales.
Taken together, FBT's holdings target a wide array of conditions. For instance, Amgen Inc. (Nasdaq: AMGN) makes medicines to treat cancers, kidney and bone diseases - as well as rheumatoid arthritis.
Celgene Corp. (Nasdaq: CELG) has products that regulate cells, genes, and proteins to treat bone marrow, breast, and lung cancer. And Regeneron Pharmaceuticals Inc. (Nasdaq: REGN) is widely known for Eylea, a compound that combats blindness among older folks.
2015 High-Octane Tech ETF No. 2: SPDR S&P Semiconductor ETF
The SPDR S&P Semiconductor ETF (NYSE Arca: XSD) takes advantage of a single simple fact: Our tech-driven world needs semiconductors for just about everything - from smartphones to the connected car to Wi-Fi routers.
With this one play, we invest in roughly 50 firms covering nearly every conceivable aspect of the chip industry.
Intel Corp. (Nasdaq: INTC) is one of the fund's larger holdings. The Silicon Valley giant is primarily known as the force behind PCs. But it is moving aggressively into wearable tech, a market that is growing by more than 75% a year.
For its part, Skyworks Solutions Inc. (Nasdaq: SWKS) ranks as a force in the mobile and broadband markets. With this stock, XSD is also investing in a number of end markets that cover everything from defense to medical to automotive.
Industry veteran Rambus Inc. (Nasdaq: RMBS) is developing next-generation chips for smartphones and tablets, as well as for security and lighting systems. Integrated Device Technology Inc. (Nasdaq: IDTI) is a small-cap firm that sells sophisticated computer memory systems to the wireless industry.
No wonder XSD is such a strong performer. Over the last two years, the ETF has gained roughly 77%. That means it beat the S&P 500 by 63% during the period.
2015 High-Octane Tech ETF No. 3: PowerShares Aerospace & Defense ETF
I believe the PowerShares Aerospace & Defense ETF (NYSE Arca: PPA) will do particularly well starting early next year when Republicans take control of the U.S. Senate. Once they have both houses of Congress, the Republicans will likely push for higher defense budgets.
With its broad-based approach, PPA is set to profit from the entire defense industry. The fund is composed of 80% defense and aerospace stocks from companies that are proven leaders.
Besides their focus on defense, these firms all have one big thing in common - they are brimming with advanced technology.
Take the case of Raytheon Co. (NYSE: RTN). This mega-cap firm provides the U.S. Department of Defense with systems for electronic warfare, laser rangefinders, military training, and advanced radar. It also makes radar, space sensors, and systems that protect the United States and its allies against ballistic missiles, enemy aircraft, and other threats.
Lockheed Martin Corp. (NYSE: LMT) is well known for making military aircraft. But its reach also includes space exploration, satellite systems, biometrics and cybersecurity.
[epom key="ddec3ef33420ef7c9964a4695c349764" redirect="" sourceid="" imported="false"]
PPA also includes a couple of intriguing smaller caps. FLIR Systems Inc. (Nasdaq: FLIR) is a leader in commercial thermal-imaging cameras. And Hexcel Corp. (NYSE: HXL) supplies honeycomb composites to some of the biggest names in aerospace.
PPA also ranks as a market-beating ETF. With a two-year gain of nearly 70%, it's beaten the S&P 500 over the period by 49%.
Thus, these ETFs hold a rare distinction. They not only beat the market by wide margins, but all three meet the requirements of Rule No. 5: They have the power to double.
Now then, it may take a bit longer for that to happen with these funds than what you'd find with an aggressive small cap.
However, the beauty of these investments is that they can really pay off for the long haul - with a lot less volatility.
In other words, during the market's periodic sell-offs, these tech ETFs will let you rest assured you're on track to double the value of your investment.
More from Michael Robinson: You've seen the headlines about e-commerce stocks - and if you shopped the web on Black Friday, you were a part of the story. Online shopping was up 17%. It makes you wish you'd invested in e-commerce stocks a decade ago. But now there's a rare second chance to get in on the ground floor of another unstoppable e-commerce trend - and it's the kind that can make you truly rich.
About the Author
Michael A. Robinson is a 36-year Silicon Valley veteran and one of the top tech and biotech financial analysts working today. That's because, as a consultant, senior adviser, and board member for Silicon Valley venture capital firms, Michael enjoys privileged access to pioneering CEOs, scientists, and high-profile players. And he brings this entire world of Silicon Valley "insiders" right to you...
He was one of five people involved in early meetings for the $160 billion "cloud" computing phenomenon.
He was there as Lee Iacocca and Roger Smith, the CEOs of Chrysler and GM, led the robotics revolution that saved the U.S. automotive industry.
As cyber-security was becoming a focus of national security, Michael was with Dave DeWalt, the CEO of McAfee, right before Intel acquired his company for $7.8 billion.
This all means the entire world is constantly seeking Michael's insight.
In addition to being a regular guest and panelist on CNBC and Fox Business, he is also a Pulitzer Prize-nominated writer and reporter. His first book Overdrawn: The Bailout of American Savings warned people about the coming financial collapse - years before the word "bailout" became a household word.
Silicon Valley defense publications vie for his analysis. He's worked for Defense Media Network and Signal Magazine, as well as The New York Times, American Enterprise, and The Wall Street Journal.
And even with decades of experience, Michael believes there has never been a moment in time quite like this.
Right now, medical breakthroughs that once took years to develop are moving at a record speed. And that means we are going to see highly lucrative biotech investment opportunities come in fast and furious.
To help you navigate the historic opportunity in biotech, Michael launched the Bio-Tech Profit Alliance.
His other publications include: Strategic Tech Investor, The Nova-X Report, Bio-Technology Profit Alliance and Nexus-9 Network.