In its just-released forecast for 2015, CNNMoney.com suggested a "ho-hum year" for stocks.
The popular news service even cited a Goldman Sachs Group Inc. (NYSE: GS) prediction that calls for a gain of less than 2% on the bellwether Standard & Poor's 500 Index.
As predictions go, this one is pretty mundane. And while folks who buy into this won't suffer actual losses, they will incur "opportunity losses."
You see, unlike the tepid forecasts of CNNMoney and Goldman Sachs, I'm forecasting a strong year for stocks – and especially tech stocks – in 2015. And folks who pick the "right" profit plays can do even better than the market.
Today I'm going to show you how to grab those market-trouncing gains – with three profit plays that appear tepid on their face, but are actually high-octane claims on the hottest slices of Silicon Valley growth…
Be a "Stock-Picker" Winner
This year has been a good one for U.S. stocks, with the S&P 500 up more than 12%. And folks who understood this was a "stock-picker's market" – meaning they chose the "right" winners – did even better.
And 2015 will be a good year for stocks in general – and will be even better for investors who hitch a ride with several hot tech sectors.
For the year ahead, I'm projecting a 7% gain for the S&P 500. I'm basing that on the U.S. economy's recent strong performance – and I'm being conservative.
For the third quarter, U.S. gross domestic product (GDP) advanced 3.9%, meaning the market beat it by threefold.
Global economists are projecting 3.5% U.S. GDP growth in the new year. Cutting the market's multiple down to 2 gives us a projected 7% return.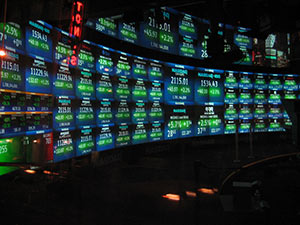 Of course, I strongly believe tech will do much better…
That's exactly what happened last year. The Nasdaq 100 crushed the overall market with gains of about 20% – or roughly 66% better than the overall market.
Along the way, there will be plenty of opportunities for tech investors to do better than that.
Much better.
In fact, Rule No. 5 of my five-part, tech wealth-building system can be used effectively in 2015. The rule says to "target stocks with the power to double."
As it turns out, it's not always about individual equities. In fact, the tech trends I'm watching suggest that three exchange-traded funds (ETFs) in particular meet that rule.
The great thing about ETFs is that you get a lot of potential upside while also greatly diversifying away your risk. But because these three ETFs are "focused," they let you play an entire sector with a single cost-effective investment.
And thanks to the three sectors we've chosen, I believe these are funds that could double over the next three years or so.
The bottom line: These are three tech ETFs that every investor should own.
Let's take a look. And we'll start with one of my favorite double-your-money profit plays – biotech.
Join the conversation. Click here to jump to comments…
About the Author
Michael A. Robinson is one of the top financial analysts working today. His book "Overdrawn: The Bailout of American Savings" was a prescient look at the anatomy of the nation's S&L crisis, long before the word "bailout" became part of our daily lexicon. He's a Pulitzer Prize-nominated writer and reporter, lauded by the Columbia Journalism Review for his aggressive style. His 30-year track record as a leading tech analyst has garnered him rave reviews, too. Today he is the editor of the monthly tech investing newsletter Nova-X Report as well as Radical Technology Profits, where he covers truly radical technologies – ones that have the power to sweep across the globe and change the very fabric of our lives – and profit opportunities they give rise to. He also explores "what's next" in the tech investing world at Strategic Tech Investor.