Uber CEO Travis Kalanick announced Dec. 4 the company raised $1.2 billion in a recent round of funding. Multiple reports indicate Uber is now valued at $40 billion.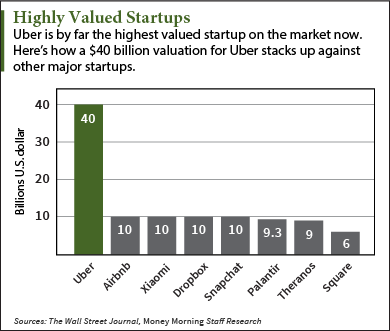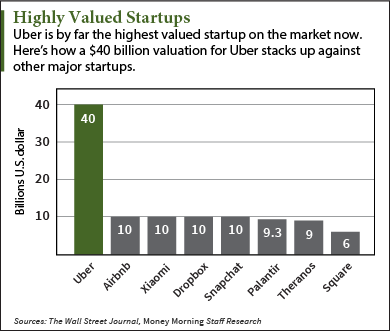 For investors, that also means there will be another delay for the Uber IPO. With that investor support, Uber can likely forego an initial public offering through the first half of 2015.
"At this valuation, investors appear to be thinking that when Uber goes public, it might be worth $80 billion to $100 billion," CB Insights' Chief Executive Officer Anand Sanwal told Bloomberg. "This type of mega-financing affords Uber a great deal of flexibility in terms of when they might go public."
The latest valuation would make Uber almost as large as Twitter Inc. (Nasdaq: TWTR) and Netflix Inc. (Nasdaq: NFLX) combined. That ensures it will be one of the most-watched 2015 IPOs.
In a Dec. 4 blog post, Kalanick left the door open for additional funding when he stated there is "additional capacity remaining for strategic investments." He also said the company will add more than 1 million jobs in 2015, and will expand in the Asia Pacific region.
With a $40 billion valuation Uber is the highest valued startup in the world by $30 billion. In June, it completed a round of funding that valued the company at $17 billion.
The timing is interesting for Uber as the company made headlines with two separate scandals this month.
First, Senior Vice President of Business Emil Michael made comments to a BuzzFeed reporter saying Uber should hire a team of researchers to smear the reputation of a female reporter who had criticized the company.
Then privacy concerns arose when BuzzFeed reported Uber executives use a secret tracking-service known as "God View" to access the location of prominent clients.
Kalanick addressed those scandals in his blog post.
"This kind of growth has also come with significant growing pains," he wrote. "The events of the recent weeks have shown us that we also need to invest in internal growth and change. Acknowledging mistakes and learning from them are the first steps."
Despite these "growing pains," investors are clearly still bullish on Uber. Through today, it has now raised more than $2.8 billion through six rounds of funding since 2009.
And while there are issues with the company's operations, it does possess a truly disruptive technology...