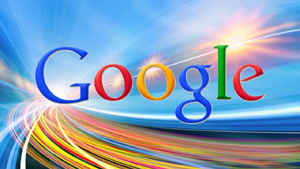 Haters in Europe continue to force Google Inc. (Nasdaq: GOOG, GOOGL) out of the continent – a trend we told you was coming after a key anti-Google vote in Europe late November….
The tech giant just announced it will pull its Google News service out of Spain starting Dec. 16.
Google will exit Google News in response to an intellectual property law the country passed Oct. 30 – one that so blatantly targeted Google it earned the nickname "the Google tax."
Starting in January 2015, aggregator sites (read: Google, which owns 90% of Web search in Europe) must pay every Spanish publication a fee if the publication's content comes up on the site. The law gives an inalienable right to compensation – in other words, even if a publication wishes to be found in Google News (and of course, most do), Google must pay the sanction. And the sanction can reach as high as €600,000 ($758,000).
"This new legislation requires every Spanish publication to charge services like Google News for showing even the smallest snippet from their publications, whether they want to or not," Google posted on its Europe Blog on Dec. 11. "As Google News itself makes no money (we do not show any advertising on the site) this new approach is simply not sustainable. So it's with real sadness that on 16 December (before the new law comes into effect in January) we'll remove Spanish publishers from Google News, and close Google News in Spain."
These comments posted to Google's Blog announcement capture the predominant mood there: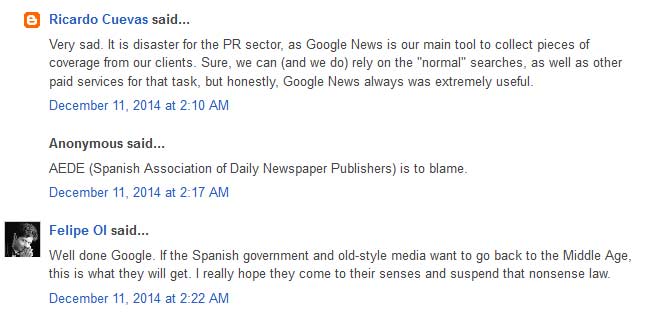 Spain wasn't the only European country to enact laws that force out GOOG this week…
GOOG Engineering to Exit Russia
Also on Dec. 11, news broke that Google will transfer all of its engineering operations out of Russia.
The nation is set to enact a new law in 2015 that requires citizens' personal data to be stored in local data centers. Companies that fail to follow the rule will be penalized. As Russia's relationship with the West continues to deteriorate, the new local data law came with little surprise – the country aims to give its own tech companies an edge over foreign competitors.
Google accounted for 31% of Web searches in Russia in Q3 2014, up from 4% from Q1. Meanwhile, local search rival Yandex NV (Nasdaq: YNDX) fell 2% to 60%, according to LiveInternet.ru data.
GOOG said it will still keep "a dedicated team in Russia" to support local users, but YNDX shares rallied more than 4% intraday today (Friday) on news of a partial GOOG operations exit.
Earlier this month, we predicted that the EU will force Google to break up in 2015.
On Nov. 27, the European Parliament voted to "unbundle" GOOG's search engine from its other commercial services. While the passed mandate is largely symbolic (only the EU has the power to break up a corporation), the vote increases pressure on the EU to act against Google.
"I have maintained for several years that this course of action was likely," Money Morning Chief Investment Strategist Keith Fitz-Gerald said on Dec. 2. "I don't think it's unexpected – and I think American regulators will ultimately follow along."
Fitz-Gerald – a seasoned market analyst with 33 years of experience – has long followed the potential antitrust issue Google faces in both European and American markets.
"If the EU ever decides to break up Google, American regulators won't want to be upstaged," Fitz-Gerald said.
As bad as that might sound for Google, he believes a breakup would be a good thing for the company – and for investors in Google stock.