DJIA Today, Dec. 15, 2014: The Dow Jones fell another 100 points Monday as oil prices continued to slump. The market swung wildly in today's session before settling lower. The S&P 500 Volatility Index (VIX), the market's fear gauge, dropped 2.94% on the day.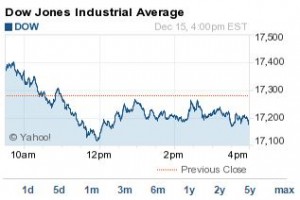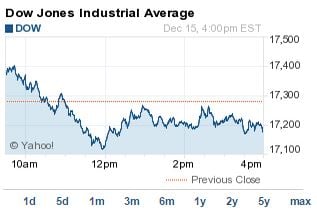 Today's Scorecard:
Dow Jones: 17,180.84, -99.99, -0.58%
S&P 500: 1,989.63, -12.70, -0.63%
Nasdaq: 4,605.16, -48.44, -1.04%
What Moved the Markets Today: The markets slid Monday as oil prices slumped to new five-year lows this afternoon. U.S. crude futures for January delivery slipped more than 3.8% to hit $55.58. Brent crude, priced in London, slipped nearly 2% to settle at $60.64 on news that OPEC remains committed to maintaining current production levels. Meanwhile, U.S. manufacturing output hit its highest levels in nine months in November. Production keeps expanding, a sign that the economy is still growing. U.S. factory production increased 1.1% in November.
Now check out the day's most important market notes:
Now our experts share some of the most important investment moves to make based on today's market trading – for Money Morning Members only:
How We'll Profit from Europe's Secret "Plan B": During the depths of the European sovereign crisis, when Greece was inches from exiting the zone, others chose to not sit idly by. Instead, two member nations were surreptitiously preparing for a possible Eurozone breakup. Even more fascinating is what came next, as it appears preparations are still in active mode. Other investors will wish they knew as much as you…
This Country's Huge "Pricing Error" Will Send These Shares Soaring: The Saudis are very frustrated about losing control over pricing power they've held for decades. It's annoying them to no end, in fact. So, they're fighting back the only way they know how to shift the balance back in their favor – by starting a price war with the United States. But Money Morning Chief Investment Strategist Keith Fitz-Gerald says they've made the biggest strategic "pricing error" in the kingdom's history. And in doing so, they've actually cleared the way for America's shale energy boom and opened up a killer opportunity for one company in particular.
One Stock That Will Profit from a New, Breakthrough Medical Direction: Modern medicine, for all of its sophisticated drugs, complex gadgets, and amazing surgical procedures, rarely cures anything. It treats. It manages. It postpones the inevitable. But return a patient to normal, optimal health? Rarely. So when an innovation comes along that can effect a complete and permanent remission of disease or restore damaged organs to a pristine state, it should cause your keenest investing instincts to perk up and pay attention…