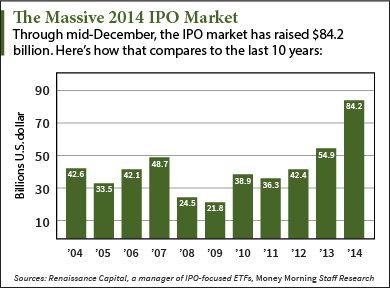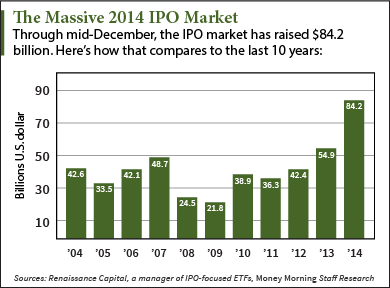 There are six deals on the IPO calendar this week, which should raise a combined $1 billion.
But the real story is this week's biggest IPO, Rice Midstream Partners LP (NYSE: RMP). That one offering alone is expected to bring in half of this week's total.
Raising $1 billion would bring the 2014 IPO market's total to $85.2 billion. That's nearly $30 billion more than 2013's total, and by far the most of any year in the last decade.
Here's a look at each company on this week's calendar of new IPOs, and the best way to profit…
The Six IPOs on This Week's IPO Calendar
Rice Midstream Partners LP (NYSE: RMP) is an MLP that owns natural gas pipelines in the Marcellus Shale formation, which stretches through parts of Ohio, West Virginia, Pennsylvania, and New York. RMP is the largest IPO this week, as the company looks to raise $500 million. RMP plans to sell 25 million shares at a $19 to $21 range. Rice is a new firm, established in 2014, and is expected to have a market value of roughly $1.2 billion after the IPO. RMP stock will hit the market Wednesday, Dec. 17.
RMP joins the long list of MLP stocks that have hit the market in the last two months. Dominion Midstream Partners LP (NYSE: DM), Shell Midstream Partners LP (NYSE: SHLX), and Antero Midstream Partners LP (NYSE: AM) have all debuted since mid-October. DM is up 57.1% from its offer price, SHLX is up 47.2%, and AM has gained just 0.4%. MLPs are strong investments right now, even when oil prices are low. But buying into IPOs is always a risky endeavor. That's why investors looking to play the MLP market are better off investing in these two MLP stocks now…
Money Morning Members: Continue reading for the rest of this week's upcoming IPOs. For those new to Money Morning, sign up to keep reading – it's completely free…