There's more OPEC news today (Monday) after the 12-nation cartel announced again that it will not be cutting production in the face of falling oil prices.
According to Money Morning's Global Energy Strategist Dr. Kent Moors, these actions will spell the end of the 12-nation oil cartel. You see, OPEC is fighting a battle it simply can't win.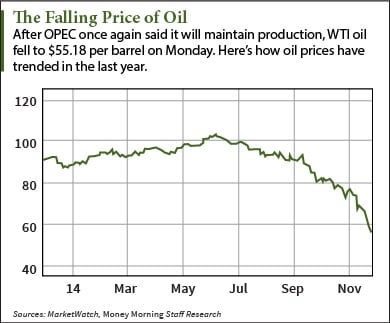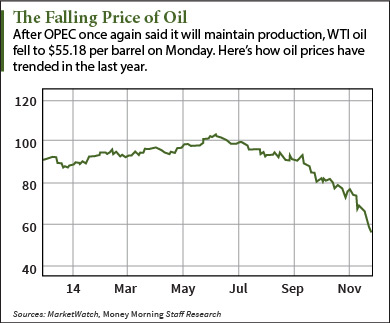 Following today's news, crude oil prices plummeted again. WTI oil for January delivery fell to $55.18 a barrel for January delivery today. That's a 46.2% drop in the last six months, and a 10% drop from last week.
Brent crude traded near $60 per barrel. That's down from more than $110 in June.
It was just the latest OPEC news story to send oil prices tanking. After last month's meeting in Vienna, Austria, the cartel initially announced it would maintain its high level of production. Brent oil fell 6.2% immediately afterward.
Last week, the cartel received another blow when a Bank of America Corp. (NYSE: BAC) report stated that the oil cartel "no longer exists in any meaningful sense." The Dec. 9 statement claimed that OPEC had effectively dissolved after failing to prevent low oil prices.
But once again, Moors was ahead of Wall Street. He spent the early part of December meeting with the world's top oil policymakers in Dubai, and had an inside look at OPEC's strategy.
On Dec. 5 he told his readers that the cartel's days were numbered.
Since then, WTI crude oil has fallen another $10 and the cartel's outlook is even bleaker.
Here are the three reasons why OPEC will collapse, according to Moors...
The Three Reasons OPEC Will Dissolve