Best ETFs to Own for 2015: Each week our experts dish out the latest profit plays and asset-protection moves for our Money Morning Members - all for free.
Today we want to do something different. Rather than provide a roundup of last week's stock picks, we're going to focus on 10 exchange-traded funds (ETFs) our experts like right now.
They are among the best low-cost ways for you to profit from next year's top trends.
"The great thing about ETFs is that you get a lot of potential upside while also greatly diversifying away your risk," Money Morning Defense & Tech Specialist Michael A. Robinson, a 30-year tech market veteran, said Dec. 11.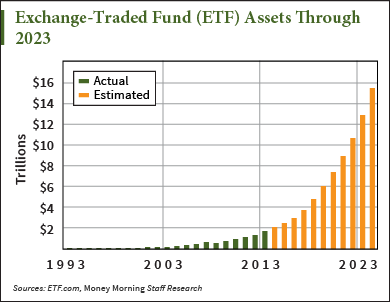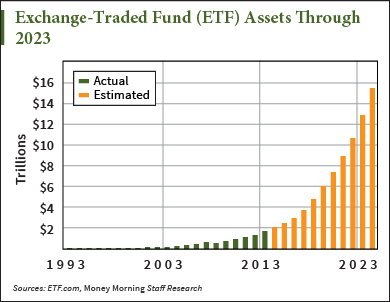 That's one reason ETF investment is booming now. On Dec. 4, MarketWatch reported U.S. ETF assets now approach a record $2 trillion, up from $1.64 trillion in January. According to a January forecast by ETF.com - a publication that correctly predicted ETF assets would hit $2 trillion by 2014's end -  ETF assets will grow eightfold by 2028.
Robinson likes five tech ETF picks for 2015 - three of which he thinks will double over the next three years. Another targets the explosive growth in Chinese e-commerce. In 2012, the country reached $298 billion in online-shopping spending, easily surpassing U.S. sales of $263 billion.
Money Morning Executive Editor Bill Patalon offered another high-octane tech ETF, with a twist - it targets one of the fastest-rising tech markets in Asia.
We also have three currency ETFs and one commodity pick that lets investors own physical silver without a high premium.
Keep reading for all Money Morning's top ETF tips and recommendations in this list of the best ETFs to own in 2015.
Money Morning's Best ETFs to Own for 2015