Here we have the ten most Googled terms of 2014 – with a twist…
Google Inc. (Nasdaq: GOOG, GOOGL) – the world's largest search engine – handles about 87% of Web search queries across the globe. A look at hottest searches provides a fantastic measure of the year's most important happenings.
As a bonus to the regular list format, we've paired each term with a link to one of our favorite 2014 Web articles on that topic. Check them out for a quick refresher, a moving read, or exceptional visual content.
Out of the roughly 140 billion Google searches that took place in 2014 (and massive amount of Web content you can find on each), here are the ten most-Googled terms with our corresponding story "faves"…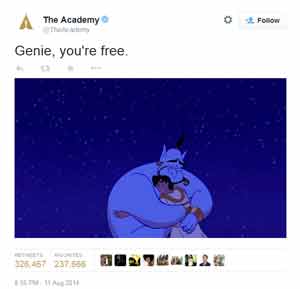 Top Ten Most-Googled Terms of 2014
Robin Williams: The widely popular actor and comedian passed away from apparent suicide by hanging on Aug. 11. Williams' death was met with an outpouring of grief, recollections, and touching tributes.

Pulptastic: This 1 Minute Video Is The Best Robin Williams Tribute I've Seen
World Cup: The 2014 FIFA World Cup was the soccer association's 20th tournament. A series of games, starting on June 12, took place at several venues dotted across Brazil. On July 13, Germany took the cup for the nation's fourth FIFA title in a stunning 1-0 overtime win over Argentina.

The Atlantic: Brazil Prepares for the World Cup [in photographs]
Ebola: "The most severe, acute health emergency seen in modern times," according to the World Health Organization (WHO), had worldwide health groups and facilities on high alert much of 2014. To date, the outbreak has killed 6,841 according to the WHO. The epidemic also sparked a trading frenzy in a number of stocks working on treatments, as well as protective-gear providers. Those key players were covered extensively here at Money Morning.