The Federal Open Market Committee (FOMC) meeting today (Wednesday) was underwhelming as usual.
We're still no closer to finding out when the U.S. Federal Reserve will raise interest rates.
That's why smart investors know not to base their investment decisions on what the Fed says or does on any given day. And today's FOMC meeting is no exception.
In fact, listening to the Fed can cause investors to miss out on gains...
For example, in July Fed Chairwoman Yellen said biotech was overvalued. Anyone who listened missed out on the 16.3% gain in the iShares Nasdaq Biotechnology Index ETF (Nasdaq: IBB) and 32.5% gain in the ProShares Ultra Nasdaq Biotechnology ETF (Nasdaq: BIB) since her comment.
That's just one example of when Yellen's guidance steered investors wrong.
Instead of taking Yellen's word on what's best for your money, here's what to really consider after today's FOMC meeting ...
Post-FOMC Meeting Investing Tips
1. Don't panic on interest rate hikes.
The Fed's three rounds of quantitative easing helped fuel a red-hot bull market.
For almost five years, the Fed pumped trillions of dollars into the economy through its asset purchases. Now the Dow Jones Industrial Average, at its 2014 peak, has climbed as much as 170% since its 2009 lows, and the S&P 500 is up more than 200%.
One of the big goals of QE was to force investors out of low-risk, low-yielding assets and into equities. In turn, the plan was to fuel a boom and create a wealth effect that gets consumers spending again.
That's why the investment community dreads the end of easy money.
It's still unclear when that will be after today's FOMC meeting, but many seem to take as given that stock markets will plunge as rates rise.
That's not exactly the reality.
"There is a lot of lip service being paid to the upcoming stock market crash that we're supposed to expect once the Federal Reserve starts raising rates," said Money Morning Small-Cap Specialist Sid Riggs. "The only problem, though, is that historical facts just don't support the fear."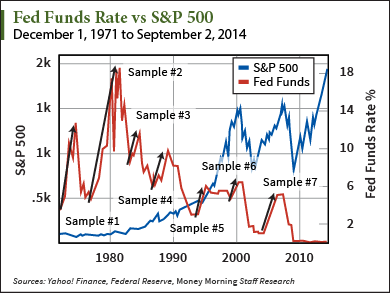 The chart to the right shows what has historically happened to the S&P 500 after the Fed raised rates since 1971. Six out of the last seven times this has happened, the markets gained. And this was an average of 13.5%.
Money Morning Members - keep reading for the next two post-FOMC Meeting tips ...