On Oct. 30, 2013, I predicted that shares of Apple stock (Nasdaq: AAPL) had a 5-to-1 chance of skyrocketing to $1,000 a share and told you folks to buy it.
A little more than a year later, we have made amazing gains of 48%.
If you play it right, we stand to gain at least another 27% from here.
In fact, I've put a date on it.
Today, I want to tell you that date – and I'm going to show you how we'll get there…
Making a Killing on Wall Street-Shunned Apple Stock
When I mentioned that $1,000 prediction during a TV appearance on FOX Business, I thought host Stuart Varney was going to jump out of his chair.
And Stuart regularly asks me if I stand by my forecast of a split-adjusted $142.85 share price. Indeed, I do – and I think we'll get there by Labor Day 2016.
At the time I first made that call, Apple was largely out of favor, a fact that many investors forget now that the stock is up 41% in the past year.
Starting Sept. 19, 2012, AAPL stock slid nearly 44% from its split-adjusted peak of $100.30. While the uptrend started in June 2013, even in October of that year, many investors and Wall Street analysts were still skeptical.
But I had a good reason for my prediction. It's Rule No. 2 of my five-part Tech Wealth System, which says to "separate the signal from the noise."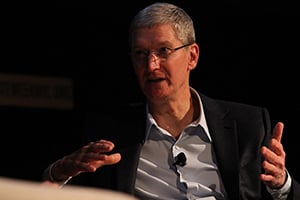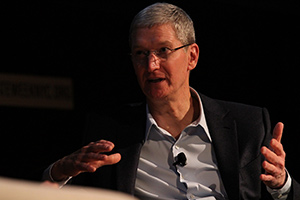 A chorus of critics were suggesting that Apple had lost its way under new CEO Tim Cook. They said that without the late legendary Steve Jobs at the helm, Apple was destined to flounder.
That was the noise. But this was the signal – Cook had a distinguished career in the computer industry before Jobs recruited him in 1998. And Jobs had a lot of faith in Cook.
Wall Street has awoken to the fact that Cook is a shrewd CEO who knows how to keep the Silicon Valley giant on the cutting edge of high tech while still racking up great profit margins.
Take the case of Citigroup analyst Jim Suva. On Dec. 8, he raised his target price for the stock by 12.5% to $135.
In doing so, Suva noted two things…
Join the conversation. Click here to jump to comments…
About the Author
Michael A. Robinson is one of the top financial analysts working today. His book "Overdrawn: The Bailout of American Savings" was a prescient look at the anatomy of the nation's S&L crisis, long before the word "bailout" became part of our daily lexicon. He's a Pulitzer Prize-nominated writer and reporter, lauded by the Columbia Journalism Review for his aggressive style. His 30-year track record as a leading tech analyst has garnered him rave reviews, too. Today he is the editor of the monthly tech investing newsletter Nova-X Report as well as Radical Technology Profits, where he covers truly radical technologies – ones that have the power to sweep across the globe and change the very fabric of our lives – and profit opportunities they give rise to. He also explores "what's next" in the tech investing world at Strategic Tech Investor.