We talked last Friday about the three bad investing habits that kill returns, and I asked you to let go of them in 2015.
I can almost guarantee you'll be better off for it – and so will your brokerage account.
Now I want to show you what to do instead.
This first investing strategy is absolutely priceless…
Good Investing Habit No. 1: Have a Plan and Stick to It
If you only use one investing tactic, please use this one.
That's because more than any other factor, discipline makes all the difference in preserving your capital and, more importantly, in growing it.
That's where 99% of most investors fail and, in the process, doom themselves to subpar returns.
The proprietary 50-40-10 structure allocation model I pioneered in our sister publication, the Money Map Report, is a great place to start.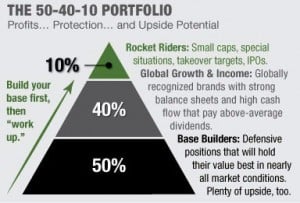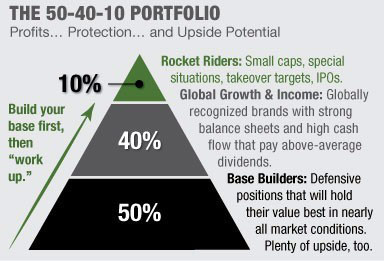 Sometimes it's really tough to stay disciplined, especially when you find an exciting new "Rocket Rider" – like our Ekso Bionics Holdings Inc. (OTCMKTS: EKSO) and you've already got 10% of your capital in more aggressive positions.
But that's actually when you need discipline the most.
By concentrating assets and periodically rebalancing between core assets, growth/income, and speculative positions, you are effectively "forcing" yourself to buy low and sell high using proven logic – not emotion. Plus, this keeps performance-robbing fees low, which Wall Street hates but you'll love because it can add a lot to your returns over time.
There are always companies like Ekso out there. If anything, finding more of them is an incentive to invest more often, perhaps even forgoing the $5 designer coffee every day.
The other thing to think about is that you'll sleep well at night even if the markets pitch a hissy fit because the concentration and built-in protection it offers ensure you're high on stability and upside at the same time.
Good Investing Habit No. 2: Take a Measured Approach When You Buy
Many investors spend more time thinking about a new flat-screen TV than they do their next triple-digit winner. So they make the mistake of going all in. They may as well head over to the casinos in Vegas, which love this kind of thinking.
There's a much smarter way to put your money to work…
Join the conversation. Click here to jump to comments…
About the Author
Keith Fitz-Gerald has been the Chief Investment Strategist for the Money Morning team since 2007. He's a seasoned market analyst with decades of experience, and a highly accurate track record. Keith regularly travels the world in search of investment opportunities others don't yet see or understand. In addition to heading The Money Map Report, Keith runs High Velocity Profits, which aims to get in, target gains, and get out clean, and he's also the founding editor of Straight Line Profits, a service devoted to revealing the "dark side" of Wall Street... In his weekly Total Wealth, Keith has broken down his 30-plus years of success into three parts: Trends, Risk Assessment, and Tactics – meaning the exact techniques for making money. Sign up is free at totalwealthresearch.com.