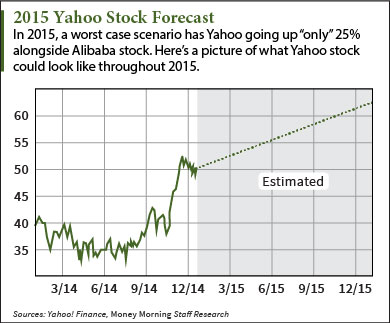 Yahoo stock (Nasdaq: YHOO) is up 25% this year - and will keep going.
In fact, one of our investing experts said another 25% gain is not out of the question for YHOO in 2015.
There's one big reason for such an optimistic 2015 Yahoo stock forecast. It's that the company's key share-price driver remains firmly in hand: Yahoo's 15% stake in Alibaba Group Holding Ltd. (NYSE: BABA).
You see, while Yahoo continues to struggle with its core business, the company has been almost prophetic in one area. It correctly identified Chinese e-commerce as one of the decade's most lucrative investment opportunities.
In 2004, then-CEO Jerry Yang put down $1 billion to take up a 40% position in Alibaba. Yahoo has since trimmed its position to 15%, which is still worth around $42 billion. Compare that to Yahoo's $48.2 billion market cap.
"Alibaba is the dominant e-commerce player in a marketplace - China - that's seeing incredible growth in online commerce," Money Morning Executive Editor Bill Patalon said. "According to the research I've seen, e-commerce in China is projected to hit $540 billion by 2015, and that's just for starters. By 2020, China's e-commerce market will be worth more than the United States, the United Kingdom, Japan, Germany, and France combined. So we know that growth is coming... and we know that Alibaba is the No. 1 gun."
Just look at how Alibaba has rewarded Yahoo shareholders already...
Yahoo Stock Up 225% While Earnings Slumped
Yahoo CEO Marissa Mayer has been leading the company since July 2012. In that time, Yahoo's earnings have done little to help its stock. The company has routinely shed revenue. Yahoo's income from operations has seen year-over-year losses in nine of the last 11 quarters under Mayer.
But in that same period, Yahoo stock is up 225% - thanks to the value of Alibaba.
This year has been much of the same. For Q3 2014, Yahoo's revenue gained less than 1%. That number only impressed Wall Street because expectations were for an even worse 3% loss. What's more troubling is that Yahoo's income from operations fell from $92.8 million in Q3 2013 to $42.2 million in Q3 2014.
Instead, most of Yahoo stock's 2014 gains are due to Alibaba IPO interest.
Investors pounced on Yahoo when Alibaba announced in March it would go public in the United States. Yahoo provided a "back-door" way to profit from Alibaba. Yahoo stock rose 11.3% - from $37.80 to $42.08 - from March to September.
Since Sept. 19, when Alibaba debuted on the New York Stock Exchange, Yahoo stock is up about 24%. Meanwhile, BABA stock has gained 14.3% from its $92.70 open price on Sept. 19. That's a 55.8% gain from the $68 IPO price.
YHOO did see a 10% drop in the month following the Alibaba IPO. Investors sold Yahoo shares in favor of Alibaba after it went public. But after Yahoo stock shook out some of the bad money, it climbed again.
Even though shareholders enjoy the Alibaba riches, they are irked at Mayer's lack of success.
They've been up in arms over Mayer's aggressive M&A strategy. Her more than two-year, $2 billion M&A spree continued last month when she notched the 46th acquisition of her tenure - a $640 million purchase of video ad platform BrightRoll.
There's little evidence to suggest her acquisitions - or any part of her turnaround strategy - will lift Yahoo's disappointing earnings picture any time soon.
"You can't buy second-tier assets and bolt them all together and get a first-tier company," Money Morning's Patalon said.
That's why Alibaba is Yahoo's biggest strength right now. And just because the IPO hype is over, the Alibaba value for YHOO shareholders is still there.
While Mayer continues to work on the core business, there are two ways the e-commerce giant will bolster Yahoo's share price in 2015...