I sure hope you didn't lose faith this year in Ambarella stock (Nasdaq: AMBA).
The stock sold off shortly after I recommended it on Jan. 7, but I advised you folks to stick with this winning, fast-moving leader in video-processing technology. Those who did endured a tough patch when the stock declined by roughly 30% from early January to early May.
But staying the course proved highly profitable – Ambarella stock went on to gain roughly 53% so far this year.
And it's up some 203% since I first recommended it back on Aug. 2, 2013.
Today, I want to show you the five reasons why the stock has had such a great run.
But that's just a start – today, I'll also show you how, if we stick with it, Ambarella will double again from here…
A Five-Point Star
If ever there was a tech firm that meets all of the criteria of my five-part Tech Wealth Secrets system, it's Ambarella.
Simply stated, this is one of the best semiconductor firms around. Its huge returns illustrate how a well-run niche player can leave the rest of the stock market in the dust.
Founded in 2004, the Silicon Valley company specializes in video-processing semiconductors that deliver high-definition images. Fortunately for Ambarella, video chips are badly needed in several fast-growing tech sectors.
Now then, when many investors see gains of 200% in less than 18 months, they may fear the run is over for a tech stock like Ambarella.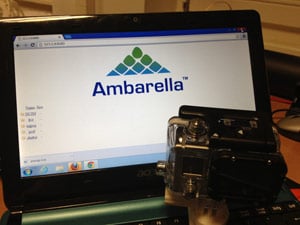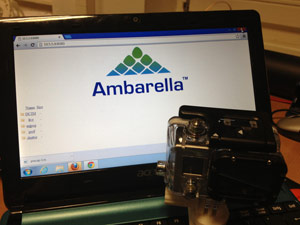 They're wrong. AMBA stock could still double again from here because of the strength it shows in each of the five rules I use for building wealth through tech stocks.
Let's take a look…
Rule No. 1: Great Companies Have Great Operations
Ambarella has this base covered. CEO Fermi Wang is a star among tech leaders. Wang holds several patents in his field and has a long track record of success.
Consider that he earlier cofounded Afara Websystems, a pioneer of advanced computer servers that is now a division of Oracle Corp. (Nasdaq: ORCL).
And he's gotten a lot of help over the years from Les Kohn, a renowned chip expert Wang began working with nearly 20 years ago. They started out at C-Cube Microsystems, a pioneer in video-compression technology.
And Kohn now serves as Ambarella's chief technology officer.
Wang has surrounded himself with other impressive executives. As a group, they have logged stints at such chip leaders at Intel Corp. (Nasdaq: INTC), National Semiconductor Corp. and NXP Semiconductors NV (Nasdaq: NXPI).
On to the next reason AMBA stock is set to double – again…
Join the conversation. Click here to jump to comments…
About the Author
Michael A. Robinson is one of the top financial analysts working today. His book "Overdrawn: The Bailout of American Savings" was a prescient look at the anatomy of the nation's S&L crisis, long before the word "bailout" became part of our daily lexicon. He's a Pulitzer Prize-nominated writer and reporter, lauded by the Columbia Journalism Review for his aggressive style. His 30-year track record as a leading tech analyst has garnered him rave reviews, too. Today he is the editor of the monthly tech investing newsletter Nova-X Report as well as Radical Technology Profits, where he covers truly radical technologies – ones that have the power to sweep across the globe and change the very fabric of our lives – and profit opportunities they give rise to. He also explores "what's next" in the tech investing world at Strategic Tech Investor.