I sure hope you didn't lose faith this year in Ambarella stock (Nasdaq: AMBA).
The stock sold off shortly after I recommended it on Jan. 7, but I advised you folks to stick with this winning, fast-moving leader in video-processing technology. Those who did endured a tough patch when the stock declined by roughly 30% from early January to early May.
But staying the course proved highly profitable – Ambarella stock went on to gain roughly 53% so far this year.
And it's up some 203% since I first recommended it back on Aug. 2, 2013.
Today, I want to show you the five reasons why the stock has had such a great run.
But that's just a start – today, I'll also show you how, if we stick with it, Ambarella will double again from here…
A Five-Point Star
If ever there was a tech firm that meets all of the criteria of my five-part Tech Wealth Secrets system, it's Ambarella.
Simply stated, this is one of the best semiconductor firms around. Its huge returns illustrate how a well-run niche player can leave the rest of the stock market in the dust.
Founded in 2004, the Silicon Valley company specializes in video-processing semiconductors that deliver high-definition images. Fortunately for Ambarella, video chips are badly needed in several fast-growing tech sectors.
Now then, when many investors see gains of 200% in less than 18 months, they may fear the run is over for a tech stock like Ambarella.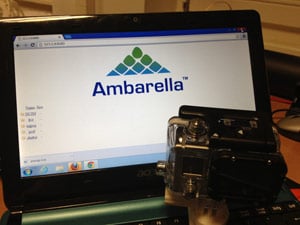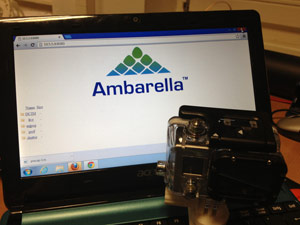 They're wrong. AMBA stock could still double again from here because of the strength it shows in each of the five rules I use for building wealth through tech stocks.
Let's take a look…
Rule No. 1: Great Companies Have Great Operations
Ambarella has this base covered. CEO Fermi Wang is a star among tech leaders. Wang holds several patents in his field and has a long track record of success.
Consider that he earlier cofounded Afara Websystems, a pioneer of advanced computer servers that is now a division of Oracle Corp. (Nasdaq: ORCL).
And he's gotten a lot of help over the years from Les Kohn, a renowned chip expert Wang began working with nearly 20 years ago. They started out at C-Cube Microsystems, a pioneer in video-compression technology.
And Kohn now serves as Ambarella's chief technology officer.
Wang has surrounded himself with other impressive executives. As a group, they have logged stints at such chip leaders at Intel Corp. (Nasdaq: INTC), National Semiconductor Corp. and NXP Semiconductors NV (Nasdaq: NXPI).
On to the next reason AMBA stock is set to double – again…
Join the conversation. Click here to jump to comments…
About the Author
Michael A. Robinson is a 35-year Silicon Valley veteran and one of the top technology financial analysts working today. He regularly delivers winning trade recommendations to the Members of his monthly tech investing newsletter, Nova-X Report, and small-cap tech service, Radical Technology Profits. In the past two years alone, his subscribers have seen over 100 double- and triple-digit gains from his recommendations.
As a consultant, senior adviser, and board member for Silicon Valley venture capital firms, Michael enjoys privileged access to pioneering CEOs and high-profile industry insiders. In fact, he was one of five people involved in early meetings for the $160 billion "cloud" computing phenomenon. And he was there as Lee Iacocca and Roger Smith, the CEOs of Chrysler and GM, led the robotics revolution that saved the U.S. automotive industry.
In addition to being a regular guest and panelist on CNBC and Fox Business Network, Michael is also a Pulitzer Prize-nominated writer and reporter. His first book, "Overdrawn: The Bailout of American Savings" warned people about the coming financial collapse - years before "bailout" became a household word.
You can follow Michael's tech insight and product updates for free with his Strategic Tech Investor newsletter.