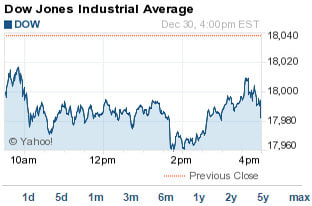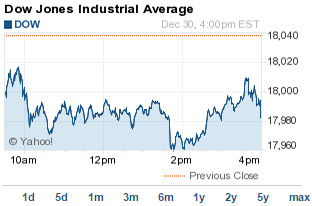 The Dow Jones today dropped more than 55 points on a day of light trading volumes. Concerns about falling oil prices remained central to the energy sector, while utilities were the biggest decliners of the day. Last-minute profit taking continues to be a priority as the trading year winds down.
Tomorrow (Wednesday), markets will close early on New Year's Eve.
Let's take a look at today's scorecard.
Dow Jones: 17,983.07, -55.16, -0.31%
S&P 500: 2,080.35, -10.22, -0.49%
Nasdaq: 4,777.44, -29.47, -0.61%
What Moved the Markets Today: The Dow Jones slid as investors continue to take profits ahead of the New Year and new geopolitical concerns emerge across Europe. The markets slipped despite consumer confidence beating consensus expectations for December. Meanwhile, single-family housing prices slowed less than expected in October, according to the Case-Shiller Housing Index. Gold prices saw a modest 1.4% gain today, fueled by speculation over the future of the Greek economy. Gold's gain pushed mining stocks higher. Shares of Newport Mining Corp. (NYSE: NEM) rose 3.6% on the day.
Here's a breakdown of today's other top stories and stock performances:
Apple News: Shares of Apple Inc. (Nasdaq: AAPL) slipped 1.22% on news the company's annual iPad sales will fall for the first time since the company introduced the gadget five years ago. According to a report by ABI Research, iPad sales will hit 68 million in 2014, down from the 74 million units in 2013. Despite the news, Apple stock remains one of the best stocks to own heading into 2015. Get our forecast on Apple stock here.
Lawsuit Pending: Shares of United Continental Airlines Inc. (NYSE: UAL) were up nearly 1.3% as oil prices continue to fall and benefit the airline industry. Still, the company came under criticism today by some analysts for its attempt to shut down a college student's website that identifies cheaper airfare thanks to a loophole in the industry's pricing mechanism. Along with Orbitz Worldwide Inc. (Nasdaq: OWW), the company sued a 22-year old tech whiz who exploited a way to let one-way passengers travel to destinations by flying to layover cities and abandoning the second leg of the flight, a strategy known as "hidden city" ticketing.
Project Delays: Reuters reports that Excelerate Energy has delayed its Texas liquefied-natural gas (LNG) export project as the economics of the plant are threatened by falling oil prices. The company's 8 million ton per year export plant anchored in Lavaca Bay will no longer be sending LNG abroad in 2018. A glut in exports has increased dramatically as South Korea and Japan are both attempting to escape parts of their long-term commitments to U.S. exporters.
Biotech Boom: Shares of NeuroDerm Ltd. (Nasdaq: NDRM) jumped more than 193% on positive news for the biotech company's new Parkinson's drug. According to a company statement, a recent mid-stage study suggests patients could avoid surgery if they increase the dosage of the drug. Elsewhere in the sector, Hospira Inc. (NYSE: HSP) rose roughly 0.5% on news the U.S. Food and Drug Administration approved its new pain management drug, Dyloject.
Energy Fallout: Shares of Civeo Corp. (NYSE: CVEO) plunged nearly 53% today on news the company will slash its workforce and cut its 2015 revenue outlook by more than one-third. The firm provides temporary housing to oilfield workers and miners. It has seen service demand plummet due to falling oil prices. With oil companies slashing capital expenditures for 2015 and beyond in western Canada and Australia, Civeo will look for a rebound in prices to boost demand.
Now our experts share some of the most important investment moves to make based on today's market trading – for Money Morning Members only:
Three Tech ETFs That Will Double Your Money: Money Morning Tech Specialist Michael A. Robinson is forecasting a strong year for stocks – and especially tech stocks – in 2015. And folks who pick the "right" profit plays can do even better than the market. Here's how to grab those market-trouncing gains with three profit plays that appear tepid on their face, but are actually high-octane claims on the hottest slices of Silicon Valley growth…

Three Scary Tech Stocks to Avoid in 2015: Just because 2015 will be a strong year for tech stocks doesn't mean every single one will be a winner in the New Year. With that in mind, let's take a look at 2015's three worst tech stocks. Tread carefully, though – their numbers may terrify you…
One Stock That Will Profit from a New, Breakthrough Medical Direction: Modern medicine, for all of its sophisticated drugs, complex gadgets, and amazing surgical procedures, rarely cures anything. It treats. It manages. It postpones the inevitable. But return a patient to normal, optimal health? Rarely. So when an innovation comes along that can effect a complete and permanent remission of disease or restore damaged organs to a pristine state, it should cause your keenest investing instincts to perk up and pay attention…