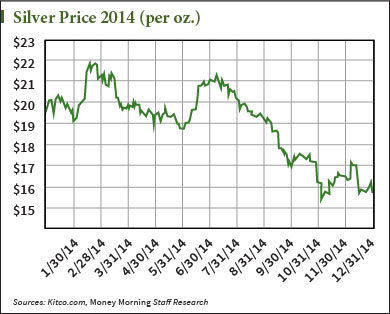 Silver prices this year fell 20% to $15.685, making 2014 the second straight year of declines for the white metal.
After closing 2013 at $19.565 an ounce, the spot silver price bounced between $18.50 and $22 for most of the year. Then it crashed through key support levels in September. Silver prices then began a descent to four-year lows.
Silver futures dropped from $19.55 to $15.60, or 20.2%.
Other silver investments were a mixed bag. Silver exchange traded funds (ETFs) found trouble, but some silver stocks emerged unscathed from the white metal's decline.
The premier silver ETF, the iShares Silver Trust (NYSE Arca: SLV), dropped from $18.71 to $15.06 on the year. That's a 19.5% fall. The ETFs Physical Silver Shares (NYSE Arca: SIVR), fell 19.6%, from $19.20 to $15.43.
One of the top silver stocks was Fortuna Silver Mines Inc. (NYSE: FSM). It was up 58.5%, trading at $4.55 at the close of 2014.
Silver Wheaton Corp. (NYSE: SLW), a pure play mining company, closed 2014 at $20.33. That's a 0.7% increase on the year.
However, what proved to be the best silver trade this year was a silver short. The VelocityShares 3x Inverse Silver ETN (Nasdaq: DSLV), which aims to generate three times the inverse return of silver through exposure to short contracts, was up 36.1% on the year. It traded at $72.98 by 2014's close.
Here's a look at what moved silver prices this year…
Tracking Silver Price Movements in 2014
Silver moved primarily on two factors: bearish speculator sentiment and growing dollar strength.
When speculators buy up short contracts, it puts selling pressure on prices. But when bearish speculation gets too high, any sudden price surge will squeeze those short sellers out. That helps to give silver prices a boost.
Silver is also looked at as an alternative investment to the dollar and an inflation hedge. When the dollar weakens, traders flee the dollar and invest in gold and silver. When it strengthens, they do the opposite.
Both these factors were at play throughout 2014 and explain the silver price drop.
Silver prices opened 2014 at $20.01. From there they marched to their 2014 high of $21.965 on Feb. 24.
Not coincidentally, this was the same time both bearish speculation retreated, and the dollar weakened.
To start 2014, speculators held about 135 million ounces of silver short. That number climbed to 170 million ounces in February and at the same time, silver prices fell to $19.51.
But when a period of short covering ensued over the next few weeks, where short positions fell to about 80 million ounces, silver hit new 2014 highs. On Feb. 24, silver closed at $21.965.
At these high prices, speculators piled on the short positions again. Speculators went from shorting 80 million ounces in February to a record high 245 million ounces by June 2. Silver fell to a new 2014 low of $18.76 on June 2.
And unsurprisingly, a new period of short covering occurred. Short positions fell throughout June and July, pushing prices to $21.445 by July 11. Unfortunately, short positions built up again to a record high of 258.6 million ounces by Oct. 28. They weren't followed by a similar short covering period.
From July 22, when bearish sentiment was at its lowest – speculators held 65 million ounces short – to Oct. 28, when short positions hit a new record, prices fell from $20.965 to $17.195. That's an 18% drop.
Despite these new low prices and a high volume of short covering, silver didn't ever rally back to above the $21 level.
And that's where the strengthening dollar came into play…
Global Central Bank Stimulus Holds Back Silver Prices