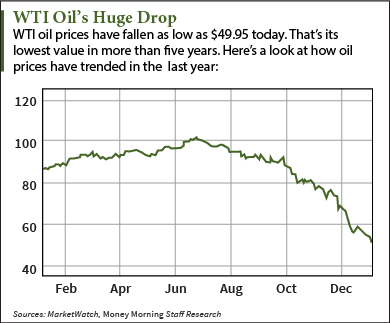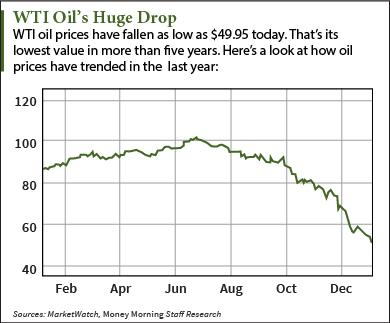 Big-name oil stocks have taken a beating since June.
ExxonMobil Corp. (NYSE: XOM) is down 12.6% in the last seven months. Other oil giants like Chevron Corp. (NYSE: CVX) and ConocoPhillips (NYSE: COP) are down 18% and 22.8% in the same time.
Those declines coincided with a terrible seven-month stretch for crude oil prices. Today (Monday), WTI crude oil futures dipped to their lowest price since 2009 at $49.95 per barrel. That's a drop of 50.7% in just seven months.
Brent oil, the global benchmark, has seen a similar decline. Futures for Brent were down 4.4% this morning to $53.91. That's a more than 51% dip since June.
The main reason oil prices continue to slide is the decision by Saudi Arabian officials to maintain high production levels in the face of a global supply glut. The Saudis are willing to let prices fall so they don't lose their market share globally.
But according to Money Morning's Chief Investment Strategist Keith Fitz-Gerald, the Saudis can't hold to that strategy forever. When a change is made, the price of oil will rebound.
"Global demand will ensure that [oil prices rebound]," Fitz-Gerald said. "The only question is when, and that depends entirely on how much longer the Saudis want to play games. Worldwide demand is growing tremendously, and energy itself is going to see some $48 trillion worth of spending by 2035, according to the IEA and other estimates."
When the oil price reverses, some of the oil stocks that were hammered in 2014 will climb as well. But that doesn't make every energy investment a strong play right now.
"I don't believe that the big oil refiners are the way to go," Fitz-Gerald said.
Instead, Fitz-Gerald is targeting this other section of the energy market. Share prices are discounted now, but they won't be for long...
The Best Oil Stocks to Buy Now
In an interview with "Straight Money Talk" in December, Fitz-Gerald told listeners he likes companies that operate in the midstream.
"The smarter play would be going for the integrated midstream producers, explorers, and pipelines like Apache Corp. (NYSE: APA) or Northern Oil & Gas Inc. (NYSE: NOG)," Fitz-Gerald said. "The former has a really clean balance sheet and will likely be a big beneficiary of the consolidation that's now under way because of cheap oil, while the latter has hedged contracts at $90 a barrel even though oil has now dropped much lower."
APA stock was hit hard by the drop in oil prices, but is on the upswing. In the last three weeks, APA has climbed 6.5% even as oil continues to tank. Apache has also paid shareholders a modest dividend for the past 50 years. Right now it yields 1.7%.
Another reason to be bullish on APA stock is the company's recent strategic switch. Last month the company sold its liquefied natural gas projects in Canada and Australia for $2.75 billion. It's now switching its focus to U.S.-based oil operations.
"This is a company that's simply been thrown out with the bathwater and they've got a lot of upside potential," Fitz-Gerald said.
NOG also trades at an extreme discount right now at $5.72 per share. It had climbed as high as $17.43 in 2014. NOG has also seen its stock rally in the last three weeks, up 9.3%.
Despite falling oil prices, analysts expect NOG's revenue to climb 26.8% for the full-year 2014. For 2015, analysts predict revenue will climb another 8.6%.
Right now, analysts surveyed by Thomson/First Call have an average price target of $11.11 for NOG. That's a 94.2% increase from today's opening price.
These two oil stocks are great bargains for investors today. For the more aggressive investor, Fitz-Gerald has one more pick to consider...
One Huge Opportunity for Aggressive Investors Now
"If you really want a ride, I think the one - if you're adventurous - is Gazprom OAO (OTCMKTS ADR: OGZPY)," Fitz-Gerald said.
[epom key="ddec3ef33420ef7c9964a4695c349764" redirect="" sourceid="" imported="false"]
Gazprom is a Russian gas pipeline systems and gas supply company that has been beaten down by falling energy prices and the turmoil in Russia. Today, its shares opened at $4.51, which is a loss of 46% in the last year.
But at such a low price, the shares offer tremendous upside.
"Gazprom is the world's largest natural gas extractor," he continued. "It has a lock on Europe, and it's trading at what I think may be the smallest P/E multiple in the world - last time I looked it's about 1.73. Any shift from terrible to simply less bad with regard to Putin is going to make that thing take off like a rocket."
Oil Price Forecast 2015 Presents One of the Best Opportunities in Years: Oil prices continue to fall, but prices won't remain at these muted levels for long. "Crude has the ability to quickly self-correct, which is why longtime oil veterans aren't worried about falling prices," Money Morning's Global Energy Strategist Dr. Kent Moors said. Here's what oil investors can expect in 2015 and the best way to profit from the energy sector...