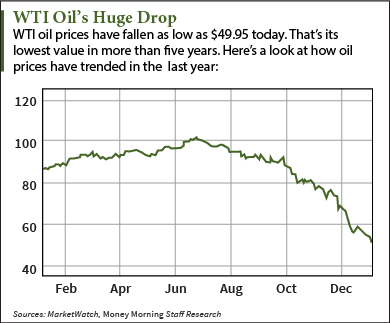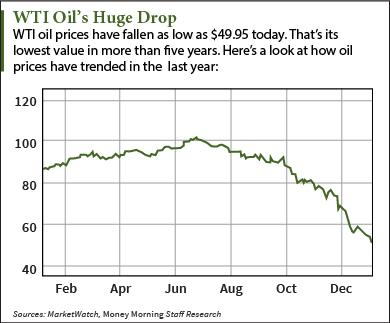 Big-name oil stocks have taken a beating since June.
ExxonMobil Corp. (NYSE: XOM) is down 12.6% in the last seven months. Other oil giants like Chevron Corp. (NYSE: CVX) and ConocoPhillips (NYSE: COP) are down 18% and 22.8% in the same time.
Those declines coincided with a terrible seven-month stretch for crude oil prices. Today (Monday), WTI crude oil futures dipped to their lowest price since 2009 at $49.95 per barrel. That's a drop of 50.7% in just seven months.
Brent oil, the global benchmark, has seen a similar decline. Futures for Brent were down 4.4% this morning to $53.91. That's a more than 51% dip since June.
The main reason oil prices continue to slide is the decision by Saudi Arabian officials to maintain high production levels in the face of a global supply glut. The Saudis are willing to let prices fall so they don't lose their market share globally.
But according to Money Morning's Chief Investment Strategist Keith Fitz-Gerald, the Saudis can't hold to that strategy forever. When a change is made, the price of oil will rebound.
"Global demand will ensure that [oil prices rebound]," Fitz-Gerald said. "The only question is when, and that depends entirely on how much longer the Saudis want to play games. Worldwide demand is growing tremendously, and energy itself is going to see some $48 trillion worth of spending by 2035, according to the IEA and other estimates."
When the oil price reverses, some of the oil stocks that were hammered in 2014 will climb as well. But that doesn't make every energy investment a strong play right now.
"I don't believe that the big oil refiners are the way to go," Fitz-Gerald said.
Instead, Fitz-Gerald is targeting this other section of the energy market. Share prices are discounted now, but they won't be for long...
The Best Oil Stocks to Buy Now