My wife Robin is a financial advisor and a CPA.
She also possesses one of the sharpest minds I've ever seen.
That's probably why she has such an affinity for jigsaw puzzles. Back in upstate New York, when we were both attending business school together at night, there was nothing she liked more to "decompress" during the lull between the semesters than to do a jigsaw puzzle.
And the greater the number of pieces - and the more complex the puzzle - the more she liked it.
Truth be told, I view the investing process in much the same way that my wife looks at jigsaw puzzles.
There's something really gratifying about taking hundreds of disparate "pieces" - in this case, the reams of financial, economic, and political data that's available at any given time - and shrewdly assembling them into a "picture" that makes sense or conveys beauty.
Or that points the way to untold wealth...
Face to Face with the Experts
As a financial columnist whose mandate it is to serve you folks, my job is to be on the constant lookout for meaningful data "pieces" that I can use to conduct analyses, draw conclusions, and make profitable recommendations to you.
I was thinking about puzzles the other night after having had the chance to talk with most of our gurus at the Money Map Press holiday parties. Oil & Energy Investor Editor Dr. Kent Moors was there. So was Capital Wave Forecast Editor Shah Gilani. I also enjoyed long and intriguing chats with Small-Cap Rocket Alert Editor Sid Riggs and Stealth Profits Trader's D.R. Barton, a newcomer to the Money Map Press "Platinum Roster" of experts - and a guy who, quite frankly, is pretty damned impressive (I'll be talking more about D.R. very soon).
But it was a talk I had with Radical Technology Profits Editor Michael Robinson that prompted the jigsaw-puzzle thoughts.
Michael and I were attending a dinner at the Four Seasons Hotel Baltimore. And our colleagues were seated all around us. But we were oblivious to the conversational buzz that hung over us like a forest canopy: Michael and I were deep into a discussion about the "spin-off" benefits he's expecting the tech sector to create in the New Year.
"Bill, I believe we are very early into the first part of a 'virtuous cycle' in technology - and it's one that I believe will last for at least five years," he told me. "And those benefits will spill over into such areas as capital investments, research and development, and even new hires."
And if you can identify the beneficiaries of those investments - especially if you're doing so ahead of "the crowd" - you can bolster your returns in a pretty big way.
And the investments in technology that we've been watching for the last several years are going to continue, the latest research shows.
According to the Computerworld Forecast Study 2015 by IDG Enterprise researchers, corporate decision-makers say they will increase spending on security technologies by 46% in the New Year. Outlays on Cloud Computing will increase 42%, and investments on business analytics 38%.
Investments in enterprise storage will rise 36% and in mobile 35%, the study found.
Those statistics speak to Corporate America's broad commitment to technology-related investments. So it's natural there will be spin-off benefits.
"We're entering a new era that I like to refer to as 'pervasive computing' - and which Apple refers to as 'unified computing,' though they mean the same things," Michael said. "Apple, in fact, has made this a key element of its corporate strategy, which underscores the importance. And the bottom line here is that these big, ongoing, and sustainable outlays for information-technology hardware, software, and services will ignite a big round of Silicon Valley innovation, revenue growth and massive shareholder returns."
Let's take a look at three areas we believe will reap a hefty payoff from tech "spin-off effects."
And let's start with a look at "wearable technology."
Pent-Up Demand
Experts like Michael believe the wearables market will get a huge boost when the Apple Watch debuts in the spring. Forrester Research predicts that the "smart" wrist appendage from Apple Inc. (Nasdaq: AAPL) will pull in 10 million users next year.
And that's just one device.
Surveys show that 42% of people are interested in buying a wrist-based wearable, up from 28% in 2013.
Tech firms are listening. In a Forrester survey of 3,000 decision-makers at global companies, 68% said wearables was a major priority for their company. And 51% called it a moderate, high, or critical priority.
That's why Juniper Research says annual wearable shipments will skyrocket from 27 million in 2014 to a whopping 116 million in 2017. And TechNavio says the wearables market will zoom at a 54.11% compound annual growth rate (CAGR) through 2018.
There have to be spin-off benefits from a buying surge that big.
And there will be - in the area of microelectromechanical system (MEMS) chips - known more colloquially as "sensors." According to the MEMS Executive Congress, the MEMS market will grow from about $12 billion last year to more than $22 billion by 2018.
"With all the advances we have in MEMS sensors, Bill, we'll soon see the introduction of wearable clothing with health-monitoring capabilities," Michael said. "Those sensors will be able to 'converse' with your wristband or smartwatch - as well as with your smartphone, tablet, or PC. Those devices will also be able to interact with your 'connected' car. Your doctor or pharmacist - with your authorization, of course - will be able to download crucial health data from those devices in a way that optimizes the care and service they give you."
Chip Shots
That proliferation in devices will drive demand in another area, too.
I'm talking about semiconductors.
Back in January 2013, we were among the first to predict the rebound in the microchip market.
And Private Briefing readers have scored big as a result - with gains of as much as 354%, 249%, 235%, 208%, 96%, and 70% on our semiconductor recommendations alone.
Just last month, we told you how the expanding Intel Corp. (Nasdaq: INTC) plant in the Saigon Hi-Tech Park (SHTP) near Ho Chi Minh City, Vietnam, will next year make 80% of the chips for the world's new PCs.
So we know semiconductors. And Michael and I both believe the chip boom will continue.
Here Are 10 "One-Click" Ways to Earn 10% or Better on Your Money Every Quarter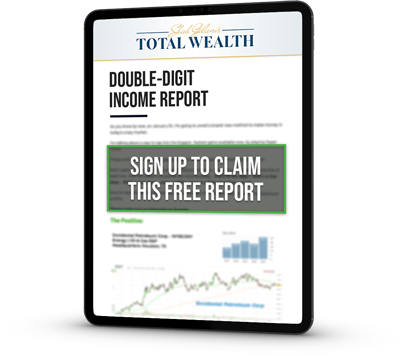 Appreciation is great, but it's possible to get even more out of the shares you own. A lot more: you can easily beat inflation and collect regular income to spare. There are no complicated trades to put on, no high-level options clearances necessary. In fact, you can do this with a couple of mouse clicks – passive income redefined. Click here for the report…
About the Author
Before he moved into the investment-research business in 2005, William (Bill) Patalon III spent 22 years as an award-winning financial reporter, columnist, and editor. Today he is the Executive Editor and Senior Research Analyst for Money Morning at Money Map Press.