The Dow Jones suffered another triple-digit plunge Tuesday, extending Monday's massive slump as oil prices continue to fall and concern of global oversupply stings traders. The downturn was fueled by comments from Saudi Arabia's King Abdullah, who said this morning the kingdom will not slash production and will keep output high to protect market share.
The S&P 500 Index fell for the fifth consecutive trading session.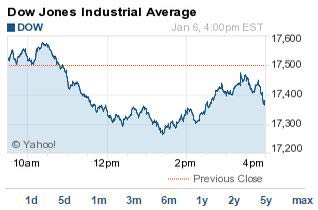 Today's Scorecard:
Dow: 17,371.64, -130.01, -0.74%
S&P 500: 2,002.61, -17.97, -0.89%
Nasdaq: 4,592.74, -59.84, -1.29%
What Moved the Markets Today: The energy sector slumped another 1.4% on the day as crude prices fell further. February West Texas Intermediate futures slipped to their lowest levels since April 2009, finishing the day at $48.12 per barrel. Meanwhile, Brent crude, the global benchmark priced in London, slid nearly 3.7% on the day to finish at $51.15 per barrel.
The downturn hit domestic U.S. producers the hardest, although large multinationals were not spared. Shares of Exxon Mobil Corp. (NYSE: XOM), Royal Dutch Shell Plc. (NYSE ADR: RDS.A), and BP Plc. (NYSE ADR: BP) all retreated on the day.
[Editor's Note: This investing tactic can help you beat the market by almost 22% in 2015…]
Here's a breakdown of today's other top stories and stock performances:
Now our experts share some of the most important investment moves to make based on today's market trading – for Money Morning Members only:
The Perfect "Anti-Trend" Play: Between its crushing debt, aging population, lack of a workable immigration policy, and decades of abysmal fiscal policy, Japan is in trouble – thus Money Morning Chief Investment Strategist Keith Fitz-Gerald's recommendation to short the currency via ProShares UltraShort Yen(NYSE Arca: YCS). It's returned more than 116% since the Japanese yen was at 76 to the dollar. But it's far from the only way to play Japan at the moment…
How to Invest Like a CEO – and Beat the Market by 40%: After digging into a recent survey on CEOs, Money Morning Tech Specialist Michael Robinson figured out exactly where today's leaders will be spending their dollars in the next five years. And he wants to show you how to invest like a CEO to take advantage of those long-term spending trends in a way that beats the market by 40%…
One Stock That Will Profit from a New, Breakthrough Medical Direction: Modern medicine, for all of its sophisticated drugs, complex gadgets, and amazing surgical procedures, rarely cures anything. It treats. It manages. It postpones the inevitable. But return a patient to normal, optimal health? Rarely… So when an innovation comes along that can effect a complete and permanent remission of disease or restore damaged organs to a pristine state, it should cause your keenest investing instincts to perk up and pay attention…