Updated Thursday, Jan. 8: The next SpaceX launch has been bumped from Friday to Saturday…
A historic SpaceX launch originally set for Tuesday morning was first delayed just a minute before liftoff. The unmanned Dragon was to carry 5,000 lbs. of fresh groceries, new equipment, and even Christmas presents to the six astronauts currently on board the International Space Station (ISS).
The landing itself is the historic part. If all goes well, SpaceX will bring its Falcon 9 rocket's main booster back to a floating platform in the Atlantic Ocean. That requires a pinpoint landing.
Booster recovery has never been done before. If successful, the maneuver would significantly lower the cost of spaceflight – a key SpaceX goal.
Here's what happened on Tuesday, and a look at the next SpaceX launch…
What Went Wrong with the SpaceX Launch
A steering mechanism (technically called an actuator) malfunctioned in the Falcon 9 rocket.
"During the terminal count, engineers observed drift on one of the two thrust vector actuators on the second stage that would likely have caused an automatic abort," SpaceX spokesman John Taylor said in a statement. "Engineers called a hold in order to take a closer look."
SpaceX founder and Tesla Motors (Nasdaq: TSLA) Chief Executive Officer Elon Musk was first to alert the public of the issue – and of the next SpaceX launch time – via Twitter: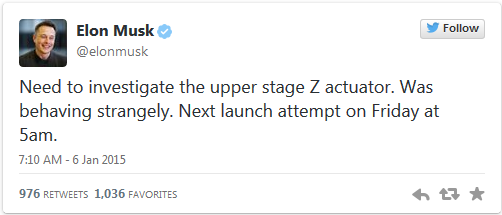 The Friday launch date was pushed back again Wednesday.
The next SpaceX launch is set for 4:47 a.m. ET Saturday morning. NASA TV begins coverage at 3:30 a.m. ET. You can also tune in on Space.com's live web feed (courtesy of NASA TV and SpaceX).
SpaceX has a $1.6 billion contract with NASA to complete 12 cargo runs to the ISS.
Possible to Invest in SpaceX? Many investors are eager to invest in SpaceX stock. We certainly are. The private company is one of the best in the commercial space industry – a booming, relatively new sector estimated to be worth more than $300 billion a year. Here's a look at investing in SpaceX stock in 2015…