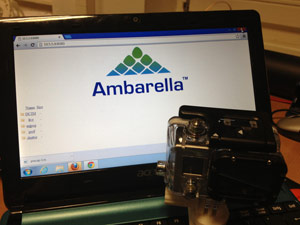 One of the best tech stocks to buy in 2015 is actually a re-recommendation from Money Morning's Defense and Tech Specialist Michael Robinson.
When Robinson first shared this tech stock with his readers on Aug. 2, 2013, it opened at just $15.99. Today (Tuesday), the stock closed at $51.09. That's a gain of 220% in 17 months.
And if you missed out the first time, it's not too late. In fact, Robinson sees it doubling again…
One of Our Favorite 2015 Stocks to Buy
This winning tech stock is Ambarella Inc. (Nasdaq: AMBA).
Ambarella is a semiconductor company. It specializes in video-processing semiconductors that deliver high-definition images. Its products are used in a variety of cameras including wearable cameras, security cameras, and automotive cameras.
The company has a $1.55 billion market cap. It has beaten earnings estimates by an average of 28.5% in the last four quarters. Next quarter, Ambarella is expected to report earnings growth of 88.4% from last year. Analysts predict revenue will jump 34.9% in 2015.
And while those numbers are all bullish, it's these three catalysts that make AMBA one of the best tech stocks to buy now…
AMBA Stock's Three Main Catalysts
Catalyst No. 1 – Strong Leadership: Ambarella's Chief Executive Officer Fermi Wang holds several patents in the field. He has a track record of success as the cofounder of Afara Websystems, now part of Oracle Corp. (Nasdaq: ORCL). His executives all have impressive resumes with experience at companies like Intel Corp. (Nasdaq: INTC), National Semiconductor Corp., and NXP Semiconductors NV (Nasdaq: NXPI).
Catalyst No. 2 – Powerful Trends: Currently, AMBA is riding the wave of wearable technology. The company's products are used in GoPro Inc.'s (Nasdaq: GPRO) Hero cameras. By 2019, BI Intelligence estimates that 148 million wearable-tech products will be sold globally. AMBA also has its chips in the backup and dashboard cameras in vehicles. In 2018, the U.S. government will begin mandating these cameras in all new cars.
Catalyst No. 3 – Huge Growth Figures: Over the last three years, AMBA has had average annual sales growth of 27%. In its last quarter, sales were up 43%. "Ambarella has operating margins of more than 20% and earns nearly 22% on stockholders' equity," Robinson said. "The firm has $186 million in cash on hand and no debt."
While those three catalysts are all bullish indicators for Ambarella, Robinson says it's this last one that's most important…
How AMBA Stock Can Double Your Money