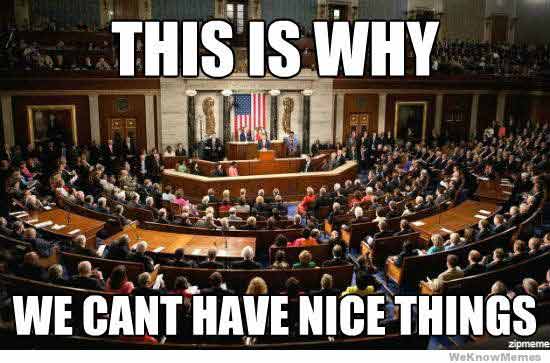 Congress quotes: Nearly all members of Congress raked in salaries of $174,000 per year (not including outside contributions) since 2009, according to a Dec. 30, 2014 report from Congressional Research Service.
But according to popular opinion, these folks don't deserve six-digit compensation…
Public approval of Congress averaged 15% in 2014, and a record low 14% in 2013 according to Gallup.
One reason for such high disapproval of our nation's lawmakers: the things they say…
Here's a look at ten of the most infuriating, baffling, and even amusing quotes by congresspeople that have made America sour on the legislative body…
(Did we miss any of your favorite Congress quotes? Join the conversation @MoneyMorning on Twitter and share more… )
10 Eyebrow-Raising Congress Quotes
"But we have to pass the bill so that you can find out what's in it." – House Minority Leader Nancy Pelosi (D-Calif.) said of the Affordable Healthcare Act at the Legislative Conference for the National Association of Counties in March 2010.

"We also have an infectious disease, Ebola. And we don't know what we don't know about Ebola. We think we know it's a virus, but we don't know, is it mutating? Can it be spread by airborne?" – Jeff Duncan (R-S.C.), Oct. 21, 2014. While it's true "we don't know what we don't know" about Ebola, we do know it cannot be "spread by airborne" – a fact Rep. Duncan's own website is clear on, even though he is not…
"This is my idea of fun." – Rep. David Schweikert (R-Ariz.) said of the government shutdown in an Oct. 1, 2013 NPR interview.

"I grew up castrating hogs on an Iowa farm." – Joni Ernst (R-Iowa). In a 30-second midterm campaign ad released March 25, Ernst explains how her background will help her "cut the pork" in Washington. Whether or not you're a fan of this unusual quote, Ernst's ad helped her defeat opponent Bruce Braley with 52% of the overall vote. She officially took office on Jan. 3, 2015.

"If you see it on C-SPAN, it's probably not real." – Rep. Jim Cooper (D-Tenn.), 2012.
According to Reader's Digest, an anonymous former congressman who served more than a decade said, "If you're a prolific fund-raiser who brings millions of dollars to your party, you get elevated to a leadership position. It happens even if you're not an effective legislator and have no leadership skills. And, boy, does that dumb down the process."
Are your taxes providing accessories to congressional office suites, such as blow-up mattresses and fancy-schmancy transportable cookware? "Like a lot of congresspeople, I sleep in my office. I'm either on the floor on a blow-up mattress or my couch. I cook in a little place across the hall that's for storage, and I've got a deep-dish electric skillet, a Crock-Pot, a blender, a fridge, and a microwave. I do the dishes in the bathroom sink." – Rep. Paul Gosar (R-Ariz.), 2012.
"Seniors love getting junk mail. It's sometimes their only way of communicating or feeling like they're part of the real world." – Sen. Harry Reid (D-Nev.), April 2012.
"Carbon dioxide is portrayed as harmful. But there isn't even one study that can be produced that shows that carbon dioxide is a harmful gas." – Rep. Michelle Bachmann, April, 2009.
Seems Democratic Congressman, Hank Johnson (D-Ga.), had some legit geographical concerns back in 2010 that landed him on our list of ten most baffling congress quotes: "My fear is that the whole island (of Guam) will become so overly populated that it will tip over and capsize." Johnson later claimed that he was kidding – or was he just covering up an embarrassing exchange?
From Rags to Riches: Amazon.com founder and CEO Jeff Bezos was born to 19-year-old Jackie Bezos in New Mexico in 1964. He spent his childhood summers doing farm work at his grandparents' ranch in Texas. Today, Jeff is worth more than $30 billion. Check out five more rags-to-riches American CEO stories here…