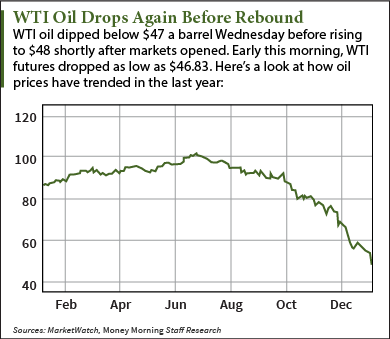 Oil prices today (Wednesday) edged up slightly after dipping to their lowest levels since April 2009 on Tuesday.
Early Wednesday, WTI oil prices dropped below $47 a barrel. That was their lowest level in more than five years. But at 9:45 a.m., the U.S. benchmark rose to $48 for February delivery.Brent oil prices acted similarly, slumping below $50 a barrel before rebounding 0.23% to $51.15.
The two benchmarks have both fallen more than 50% in seven months. Brent crude alone has dropped 57% from its peak of $115.71 in June 2014.
"We've seen the market try to stabilize after making new lows, and that appears to be what's happening now," Gene McGillian, a senior analyst at Tradition Energy told Bloomberg.
Oil prices initially fell yesterday after Saudi Arabia's King Abdullah said the country will maintain high volumes of production. Saudi officials fear cutting production would impact the country's global market share.
Since its initial Nov. 27 announcement to maintain production, OPEC has challenged U.S. shale drillers and other rivals to cut their production instead.
Oil supplies are also on the rise. According to a Bloomberg survey, U.S. crude stockpiles likely rose by 700,000 barrels last week. Gasoline inventories advanced 4.5 million.
However, UBS analysts say traders are ignoring supply distractions that normally boost prices. In today's volatile oil market, WTI and Brent oil prices are driven by sentiment rather than supply and demand.
But as we can see, oil prices today are starting to self-correct.
Money Morning's Global Energy Strategist Dr. Kent Moors says the worst of the oil crash is nearly over. Now, rising oil prices in 2015 will move us into a big wave of oil mergers and acquisitions. And there's a clear-cut way for investors to start profiting now. Go here for the full details of oil prices in 2015.
Related Articles: