Finally, things are now getting back to normal after the holidays.
Of course, the oil price "Grinch" is still with us. He outstayed his welcome weeks ago, but with the shorts still driving today's oil prices lower, he's decided to extend his stay.
And as the first two trading sessions this week have shown, the instability in the energy sector remains as well.
But as I'll show you, it's not all bad news.
For one portion of the industry, lower oil prices actually mean higher profits…
The Real Engine for Today's Oil Prices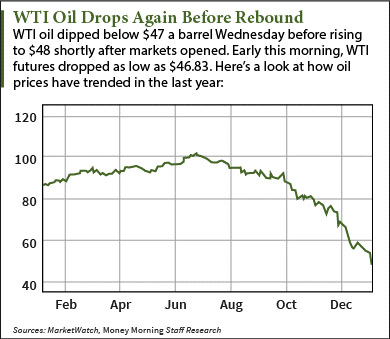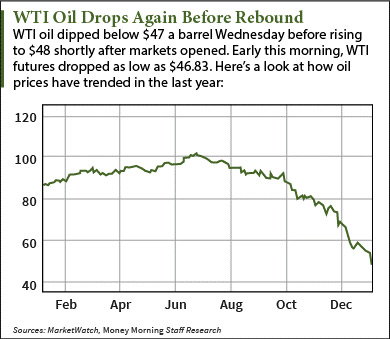 Of course, this time around, the downward pressure on oil prices is coming more from the refined product rather than from the crude oil side.
Keep in mind that all of this movement, however, has little to do with market dynamics. Instead, it is about short positions attempting to estimate the supply.
Yesterday morning, West Texas Intermediate (WTI), the benchmark futures contracts traded in New York, managed to recover somewhat after falling below $50 a barrel earlier in the week.
Unfortunately, that uptick has been tempered by some preliminary figures that show tomorrow's government statistics may show an unusually large buildup in distillates and, to a lesser degree, gasoline inventories.
In other words, the depressing influence this week is in refined products, not necessarily the volume coming out of the ground. That doesn't change the fact that the real engine for lower prices is coming from contract manipulation, not straight up supply and demand.
After all, the new volumes of U.S shale and tight oil production are hardly something recently recognized by traders. The truth is this is not a recent event. It has been building up for several years, and now pundits are using it to explain the 50%+ collapse in oil prices.
But it just doesn't fit.
Join the conversation. Click here to jump to comments…
About the Author
Dr. Kent Moors is an internationally recognized expert in oil and natural gas policy, risk assessment, and emerging market economic development. He serves as an advisor to many U.S. governors and foreign governments. Kent details his latest global travels in his free Oil & Energy Investor e-letter. He makes specific investment recommendations in his newsletter, the Energy Advantage. For more active investors, he issues shorter-term trades in his Energy Inner Circle.