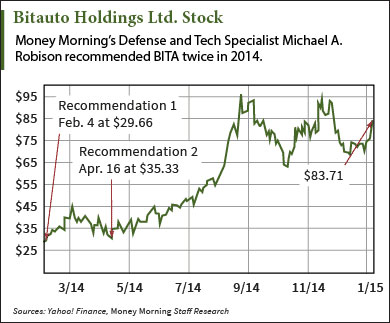 One of our 2015 stock picks may not be a household name or media darling. But it's already off to a hot start.
Bitauto Holdings Ltd. (NYSE ADR: BITA) is based in Beijing. It's a digital marketing services company for the Chinese automotive industry. It's bouncing around this morning, but Bitauto stock is up today about 4%. That goes without mentioning the gains in the last year.
It's essentially a play on two exciting markets: the automotive industry, and e-commerce. Bitauto provides online advertising as well as reviews and pricing information for consumers looking to buy cars. It's basically an online showroom for new and used car dealers.
On one end, Bitauto is a bet on an automotive industry entering a new age. Cars and technology are intersecting in new and exciting ways - and rapidly.
"Cars today have become high tech. They are brimming with advanced technology," Money Morning Defense and Tech Specialist Michael Robinson. "A wide range of exciting new tech features - everything from advanced sensors to software to GPS to Web and Bluetooth integration - are helping the auto industry rack up new sales records."
Robinson, who has been tracking the auto industry for 34 years, said now "is the most exciting time I've ever seen in the industry."
And it's also a player in Chinese e-commerce. This growing market is poised to explode in the next decade.
"According to the research I've seen, e-commerce in China is projected to hit $540 billion by 2015, and that's just for starters," said Money Morning Executive Editor Bill Patalon. "By 2020, China's e-commerce market will be worth more than the United States, the United Kingdom, Japan, Germany, and France combined. So we know that growth is coming."
Robinson recommended the Bitauto stock twice in the past. The first time was in Feb. 2014 at $29.66, then again in April at $35.33. It closed yesterday (Thursday) at $83.71. If you got in early, you would have made 182% gains. If you got in the second time, you would have "only" netted 137%.
This surge was tempered by a pullback later in the year, but that is to be expected.
"When a stock goes on such a quick, impressive rally, many investors wonder how much upside is left," Robinson said. "In this case, I still see potential for strong gains."
2015 Stock Picks: Where Bitauto Stock Is Headed