Last year's Bitcoin price decline has persisted into 2015, but don't mistake that as a sign the digital currency is dying.
Because even as the Bitcoin price has fallen from a 2014 high of $951.39 to a low this year of $257.09, the Bitcoin ecosystem has continued to grow.
Bitcoin's critics, however, have pounced on the cryptocurrency's latest woes."The scam-ridden world of Bitcoin … seems to be fast descending into a blazing fireball of financial chaos, bankruptcy, and despair," wrote Izabella Kaminska of the Financial Times.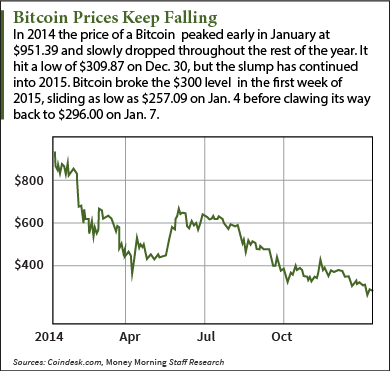 Just one day after the Bitcoin price sunk below $300 on Jan. 3 – a level not seen since November of 2013 – Bitcoin exchange BitStamp reported it was hacked.
BitStamp said it lost 19,000 bitcoins, or more than $5.4 million at the current price of about $285. Trading was suspended for several days, and still had not resumed as of Friday afternoon.
While not as dominant as the failed Mt. Gox exchange, Slovenia-based BitStamp is one of the oldest Bitcoin exchanges. It plays a key role in the Bitcoin community.
While just a small part of the Bitcoin exchange's total reserves, the incident put another dent in Bitcoin's reputation.
It also didn't help the Bitcoin price slump. But that started before the BitStamp hack, and for no obvious reason.
But the months-long fall in Bitcoin prices and string of bad news has done little to slow the digital currency's progress. That's because the people most involved in Bitcoin see its value as a new technology, not just a new kind of money.
"The price of BTC has very little to do with the level of creativity of thinking that's going into new Bitcoin apps, or their usefulness," Bitcoin evangelist and venture capitalist Marc Andreessen tweeted Jan. 5.
The rate of Bitcoin adoption in recent months has accelerated…
Falling Bitcoin Prices Have Not Slowed Investment or Adoption