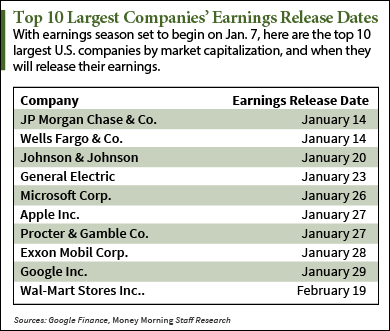 Earnings Reports 2015: The beginning of January marks the start of Q4 earnings season. Among the first ones up this year include an aluminum producer, a tech giant, and a few massive banking firms.
Here's a look at six companies on next week's calendar of earnings releases and some notes on what to expect...
Earnings Reports 2015: Six Q4 Earnings to Watch Next Week
Alcoa Inc. (NYSE: AA) has transformed into a valuable aluminum producer for the auto and aerospace markets. Yahoo! Finance analysts expect a posted profit of $0.25 a share. That's a $0.21 rise from its Q4 2013 earnings. The highest estimate is for a profit of $0.33 per share while the lowest is for $0.18. AA gained 48.5% in 2014, significantly outperforming the overall market, and will continue to benefit from increasing aluminum demand. The company is set to release Q4 results after the closing bell on Monday, Jan. 12.
JP Morgan Chase & Co. (NYSE: JPM) shares jumped 2.23% to $60.39 on Jan. 8 after it launched a new exchange-traded fund (ETF) that same day. The company's asset management arm listed it for trading as the JP Morgan Diversified Return Emerging Markets Equity ETF (NYSE Arca: JPEM). JPM stocks have declined so far in 2015 - JPM is down 5.2% since the start of the year. But Zacks Dataanalysts forecast an earnings per share of $1.30. And recent rumors of a breakup in order to benefit the company's valuation could send stocks the other way. The multinational bank will release its Q4 earnings on Wednesday, Jan. 14.
Wells Fargo & Co. (NYSE: WFC) is expected to report earnings per share of $4.10 for the current fiscal year, according to Markets Wired analysts. In its Q3 2014 report, the company posted actual earnings per share of $1.02. This shows a year-on-year increase of $0.03 earnings per share. The banking company's stock shot up 20.9% last year. Wells Fargo is growing a reputation for commitment to its customers' financial success. Wells Fargo Insurance, part of Wells Fargo & Co., was recently named Best Insurance Broker in North America by Global Finance magazine. The company will release its Q4 earnings report before trading opens on Wednesday, Jan. 14.
Money Morning Members: Continue reading for the rest of next week's upcoming earnings releases. For those new to Money Morning, sign up to keep reading - it's completely free...