The spot price of silver is up on the year.  It closed yesterday (Thursday) at $16.375 an ounce.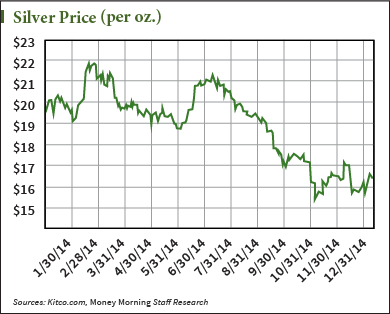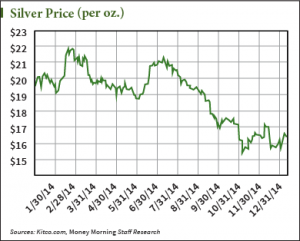 This is a 4.4% increase from the 2014 close of $15.685. The silver price chart to the right shows how silver has moved since the start of 2015.
There are three factors currently on the minds of precious metals traders. These factors explain why the spot price of silver has seen a nice, but only modest, lift this week…
What's Affecting the Spot Price of Silver
The Fed May Not Raise Rates – The U.S. Federal Reserve released December's Federal Open Market Committee (FOMC) meeting minutes Wednesday. As usual, the Fed stayed mute on interest rate hikes. Observers are beginning to speculate whether the Fed's use of the word "patience" in policy statements means low rates throughout 2015. Low interest rates mean easy money. And easy money can mean inflation. A strong dollar and falling crude oil prices indicate that the United States is likely on the precipice of deflation – not inflation. However, the expectation of prolonged low interest rates can trump those fundamentals and give silver a short-term boost.
Gold Forecast 2015: After finishing down for 2014, gold has rounded out its third straight year of weakness. That makes 2015 all the more crucial. So is the yellow metal done consolidating? Here's our outlook…
A Stronger Dollar – Central bank money printing across the globe – and the mere mention of it – is shaking investor confidence in world currencies. Just this week, the euro repeatedly touched off nine-year lows. This comes as the European Central Bank president Mario Draghi, wary of Eurozone deflation, has prepared for possible Eurozone QE. Traders are going short to get ahead of any QE-induced devaluation. Added to this is the annual 80-trillion-yen-a-year stimulus coming from the Bank of Japan. The British pound sterling has been falling too. All of this has propelled the dollar to 12-year highs. Silver can't seem to break above the $17.105 resistance it established on Dec. 12. That's largely because despite the Fed-fueled bounce this week, the strong dollar has kept a ceiling on silver's gains.
Bearish Speculation Is Holding Firm – The most recent data from the U.S. Commodity Futures Trading Commission (CFTC) indicates speculators are short silver. A good amount of it too. At the last tally, reported for Dec. 30, speculators held 124.6 million ounces of silver short. This is relatively low by 2014 standards, where speculation reached new records as high as 258.6 million ounces. But at this point, speculation has hovered around the same levels for weeks. Without a consistent period of short covering, silver prices will be stuck in the current trading range.
Silver Price Forecast 2015: Money Morning Resource Specialist Peter Krauth sees 2015 as a good year for silver. To find out just how far he sees the white metal heading, check out his 2015 forecast…