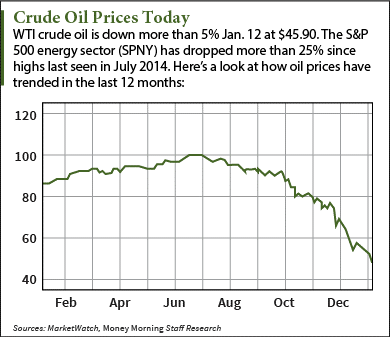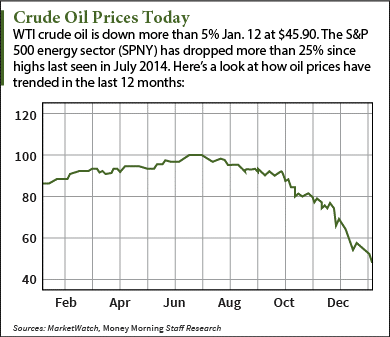 The current price of oil per barrel today (Monday) showed no sign of breaking its downward spiral. Late Monday morning, both benchmarks hit new six-year lows. WTI oil prices dipped as much as 5.1% to $45.90 a barrel. Brent oil prices were even more volatile, dropping 5.9% to $47.18 a barrel.
The long-suffering energy sector caused widespread losses in U.S. markets.
Out of the eight S&P 500 sectors down today, energy (SPNY) slumped 2.3% - the weakest by a considerable margin. That sector has fallen more than 25% since July 2014.
This tumble came after Goldman Sachs Group Inc. (NYSE: GS) and French financial services company Societe Generale SA (OTCMKTS ADR: SCGLY) slashed their oil price forecasts for the next two years. In its new report, Goldman lowered its three-month Brent crude forecasts from $80 to $42. It also cut WTI crude from $70 to $41.
The Truth About Oil in 2015: Oil hovers below $50 a barrel, but there are two major reasons why it will rebound this year. These factors are why the most experienced oil industry veterans aren't worried about low oil...
Goldman analysts wrote the current price of oil per barrel has to remain low if investment in shale can be reduced to restore balance to the global market.
[epom key="ddec3ef33420ef7c9964a4695c349764" redirect="" sourceid="" imported="false"]
"The price forecast cuts by both Goldman and Societe Generale reinforce the fears that have driven us down to these levels," Gene McGillian, a senior analyst at Tradition Energy told Bloomberg. "We're hunting for a bottom, but it's anyone's guess where that will be."
But Money Morning Global Energy Strategist Dr. Kent Moors has said long-time oil veterans aren't sweating over oil price drop.
"As the most fluid commodity in the world, crude has the ability to quickly self-correct," said Moors in our oil price outlook for 2015. He said oil is near a bottom and will head up again in 2015.
This is the seventh consecutive week in which the current price of oil per barrel has dropped. Companies concerned that the slump will continue are starting to cut back on drilling. OPEC countries have stated since November that they won't cut production no matter how far prices fall.
But OPEC's stubborn strategy is doomed to fail.
According to Moors, OPEC's decision to maintain production levels is "the opening salvo of a global oil war." Although the cartel's current price cut is impacting the market right now, there's no way it will last long. And investors can profit no matter what OPEC does. Go here for the full details of oil prices in 2015.
Related Articles: