The Dow Jones today plunged 96 points after crude oil prices crashed more than 4% this afternoon. With Saudi Arabia unwilling to cut production, oversupply concerns continue to cripple the price of oil.
The CBOE Volatility Index (VIX), the market's fear gauge, was up more than 11% on the day.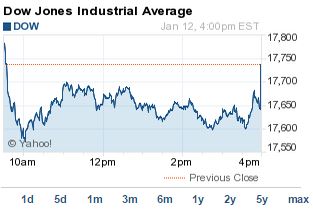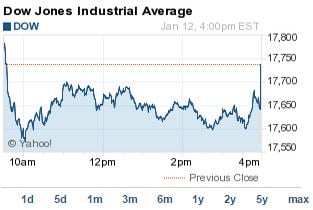 Today's Scorecard:
Dow: 17,640.84, -96.53, -0.54%
S&P 500: 2,028.26, -16.55, -0.81%
Nasdaq: 4,664.71, -39.36, -0.84%
What Moved the Markets Today: The S&P 500 energy index fell 2.8% Monday after Goldman Sachs Group Inc. (NYSE: GS) slashed its oil forecast for 2015. The bank cut its WTI-NYMEX 2015 crude forecast to $47.15 a barrel, down from $73.75 a barrel. It also forecast Brent crude prices to settle at $50.40 a barrel, down from $83.75 a barrel. The forecast piggy-backed news that billionaire Saudi Prince Alwaleed bin Talal said in an interview with FOX Business that crude oil prices will never top $100 per barrel ever again.
Now check out the day's most important market notes:
Now our experts share some of the most important investment moves to make based on today's market trading – for Money Morning Members only:
This Investing Tactic Could Help You Beat the Market by 21.97% in 2015: This year will offer investors countless opportunities, perhaps more than ever before. But few of us are set up to take full advantage of them. That's because most people's portfolios are totally out of whack. But there's good news. Money Morning Chief Investment Strategist Keith Fitz-Gerald has a stunningly simple investing strategy that can help you achieve significantly higher returns – 21.97% higher annually on average, in fact. And it only takes 20 minutes a year! Here's how to do it…

The Perfect "Anti-Trend" Play: Between its crushing debt, aging population, lack of a workable immigration policy, and decades of abysmal fiscal policy, Japan is in trouble – thus Money Morning's Keith Fitz-Gerald recommended shorting the currency via ProShares UltraShort Yen(NYSE Arca: YCS). It's returned more than 116% since the Japanese yen was at 76 to the dollar. But it's far from the only way to play Japan at the moment…
How to Invest Like a CEO – and Beat the Market by 40%: After digging into a recent survey on CEOs, Money Morning Tech Specialist Michael A. Robinson figured out exactly where today's leaders will be spending their dollars in the next five years. And he wants to show you how to invest like a CEO to take advantage of those long-term spending trends. Here's how to "follow the money" to find some great foundational plays…