As an analyst known for making bold and unusual predictions in pursuit of profits, I am usually inclined to celebrate when my "calls" are proven right.
But when it comes to the proliferation of one of the six primary trillion-dollar trends we're following – War, Terrorism, and Ugliness – I've got to be completely honest. There are times when I am uncomfortable with the human cost of being right.
That's certainly the case right now, following the horrific assassinations of 10 journalists and two police officers last week at the Charlie Hebdo magazine offices in Paris. In case you somehow missed the news, the killings were allegedly carried out by two brothers who had become radicalized Muslims in the Parisian ghettos of Gennevilliers acting in response to cartoons portraying the prophet Muhammad.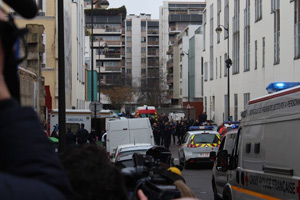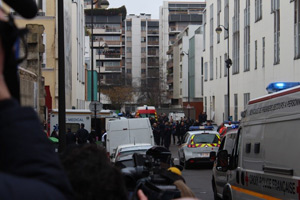 My stomach is tied in knots and I cannot help but reel in disgust. But I also cannot help but think.
The events in Paris reinforce a very important financial relationship that escapes 99% of all observers – the counterintuitive nature of terrorism and what it means for your money.
And that's what we're going to talk about today. This won't be an easy conversation to have, but it's vitally important because most people get the nature of what we're about to discuss completely backwards, and that leaves their investments vulnerable.
You see, in one of the great ironies of the financial world, terrorism actually creates far more opportunity than it destroys.
Let's get rolling.
There's an Upside for Your Money in This Awful Terrorism Trend
Conventional wisdom is that terrorism has a negative impact on your money.
To hear the media and even most analysts tell it, the uncertainty and terror caused by the threat of violence only diminishes investment opportunities and wider economic prospects. Insurance companies are expected to lose money, for example. Airline and transport companies will see a drop in passenger and cargo mile revenue. Urban areas will see a drop in tax revenue because of the perceived greater vulnerability in a densely populated area.
Certainly terrorists want you to believe that's the case as they advance their own cause, whether that be political, religious, or ideological.
Their stated goal is to inflict maximum damage and uncertainty, resulting in the perception that doing something will result in a disproportionate harm – like getting on an airplane, visiting Times Square, watching "The Interview," or producing satirical content that is perceived as an insult to a religious figure.
In reality, the effect is quite the opposite.
Join the conversation. Click here to jump to comments…
About the Author
Keith Fitz-Gerald has been the Chief Investment Strategist for the Money Morning team since 2007. He's a seasoned market analyst with decades of experience, and a highly accurate track record. Keith regularly travels the world in search of investment opportunities others don't yet see or understand. In addition to heading The Money Map Report, Keith runs High Velocity Profits, which aims to get in, target gains, and get out clean, and he's also the founding editor of Straight Line Profits, a service devoted to revealing the "dark side" of Wall Street... In his weekly Total Wealth, Keith has broken down his 30-plus years of success into three parts: Trends, Risk Assessment, and Tactics – meaning the exact techniques for making money. Sign up is free at totalwealthresearch.com.