The crude oil price drop today (Tuesday) brought oil below $45 for the first time since 2009. Early Tuesday morning, WTI oil prices dipped 2.8% to $44.78 a barrel. Brent oil prices remained more volatile than its brother benchmark, slumping 3.55% to $46.95.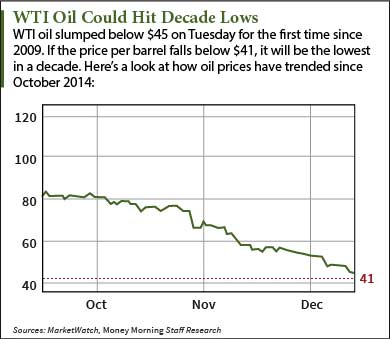 Oil is down 59% since June 2014. If WTI drops another $4 a barrel, it will hit a new 10-year low.
For a third consecutive day, oil futures in New York continued to decline, falling 4.1%. According to a Bloomberg survey, crude inventories probably gained by 1.5 million barrels last week. The U.S. has been producing at the fastest rate in more than 30 years while OPEC continues to resist calls to cut back on production.
"It's a classic case of supply overwhelming demand," said Michael Hiley, head of energy OTC at LPS Partners Inc., to Bloomberg. "U.S. production will continue to edge higher. OPEC keeps reminding us that they are going to continue to produce."
The Truth About Oil in 2015: Oil hovers around $45 a barrel, but there are two major reasons why it will rebound this year. These factors are why the most experienced oil industry veterans aren't worried about low oil…
Sinking oil prices continue to harm producer nations. The Russian ruble accelerated its fall today, trading at a record low of 66 per dollar. Venezuela is on the brink of default as it faces crucial deadlines for billions of dollars in foreign debt.
But according to Money Morning's Global Energy Strategist Dr. Kent Moors, the crude oil price drop today makes some companies more attractive to investors. They're the oil producers who are guaranteed to benefit during lower price periods. And their projects are designed to move right into today's oil "sweet spot" where the profits will be made…Go here to find out which companies benefit from low oil prices.
Related Articles: