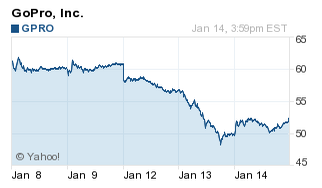 GoPro stock was a disaster waiting to happen, even before an Apple Inc. (Nasdaq: AAPL) patent for a remote control camera went public yesterday (Tuesday).
That's because despite its cool technology, GoPro Inc. (Nasdaq: GPRO) faced an array of threats.
"GoPro's got big problems ahead of it – just like every camera company before it – and that means the company isn't worth what many think it is," Money Morning Chief Investment Strategist Keith Fitz-Gerald said last summer. "To borrow a [Warren] Buffett term, GPRO doesn't have a defensible 'moat,' is facing mounting competition, and has no real brand loyalty."