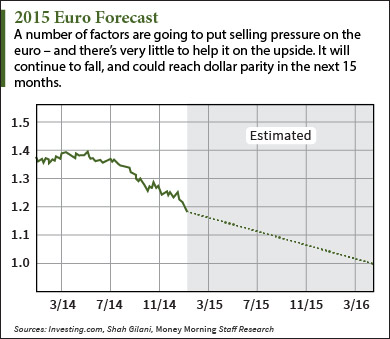 The euro is falling. And our 2015 euro forecast sees little changing over the next year - and for some time after.
"The trend of the euro is down," said Money Morning Capital Wave Strategist Shah Gilani. "It would be virtually a miracle for the euro any time in the foreseeable future - meaning the next few quarters, at least, to a year or two - to turn around."
The euro has been sliding for a while, but in just the last couple weeks it crashed through key support levels.
Here's what's behind the euro's recent violent plunge to multiyear lows...
Greece Continues to Drag Down the Euro
Confidence in the euro is weakening for a number of reasons, but there's one major concern right now: Greece.
Greek elections are slated for Jan. 25. The radical left Syriza party, led by Alexis Tsipras, is leading polls. A Syriza victory will put Greece's future up in the air.
In 2012, Greece was in the midst of a harsh austerity program. Yields rose on Greek debt. It became clear that repayment would be impossible without a bailout. The European Union and the International Monetary Fund offered Greece this bailout - provided they make deep budget cuts.
Balancing the Greek budget proved a difficult task. Unemployment rose. Wages fell. Social programs were cut. And social unrest soon followed.
The Syriza party seized on this climate just before a 2012 summer election.
Syriza emerged as the anti-austerity and anti-bailout party. Their victory would have surely put Greece at a contentious posture toward the stronger Eurozone countries that were extracting austerity conditions in exchange for bailout funds. And that would have increased the chances of Greece exiting the euro, re-adopting the drachma, and devaluing it to stay competitive.
Syriza made gains in the election, but not enough to dethrone the establishment. However, since that election, its influence has grown. Economic conditions are still poor, and the Syriza message is resonating with the electorate.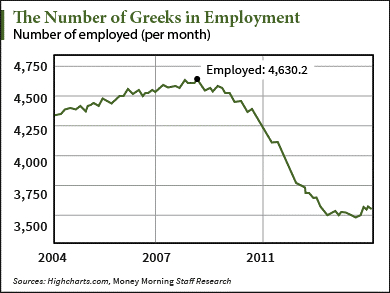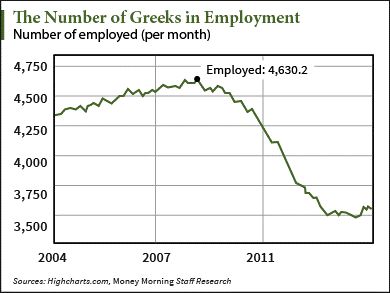 Syriza is now polling favorably for the upcoming vote. There's a good chance Syriza could emerge the winner. And while Syriza has moderated its stance - Tsipras seems more willing to work with the European Central Bank (ECB) and International Monetary Fund (IMF) than in 2012 - it would still raise a lot of uncertainties.
Tsipras wants to see more debt restructuring. He also wants an end to austerity.
But this is a tall order. Germany ultimately holds veto power over Tsipras' overly ambitious, populist agenda. Any debt restructuring negotiated between the ECB and Greece would weigh heavily on Germany's pocketbook. Germany is, after all, the Eurozone's largest economy.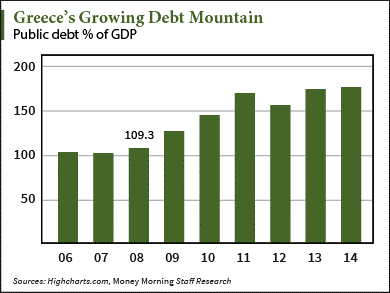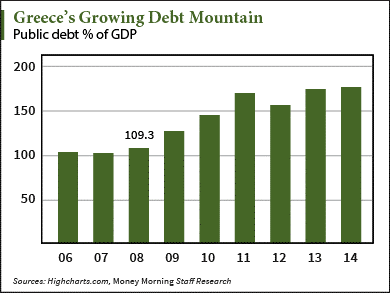 It's even leaked recently to the press that German Chancellor Angela Merkel is more receptive to a "Grexit." That is, if Syriza wins and demands unworkable concessions.
A Greek exit puts into question the whole Eurozone project. A united European bloc under a single currency, at least in practice, is still a relatively new idea - only 15 years old. And if one of the members leaves, how strong is the project really? And who's next?
That is enough to explain why the euro is falling. The plunge has been entrenched since June 2014, but swung more violently downward coming into the New Year.
But it took a lot of momentum to push the euro to nine-year lows. Even before Greece grabbed headlines again, the euro was crashing.
Here's what is going on beyond Greece that will keep the euro down through 2015...
The Eurozone Is Running Out of Options