The Dow Jones Industrial Average (DJIA) and the S&P 500 both declined for the fifth consecutive trading session Thursday, while one of the most shocking currency decisions in recent history hammered global equity markets.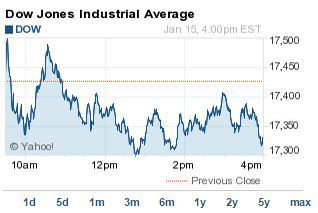 Today's Scorecard:
Dow: 17,320.71, -106.38, -0.61%
S&P 500: 1,992.67, -18.60, -0.92%
Nasdaq: 4,570.82, -68.50, -1.48%
The Swiss National Bank abandoned its current economic policy that prevents the euro/Swiss franc exchange rate from falling below 1.20.
The Swiss franc surged as much as 39% against the euro and U.S. dollar on the day. The move also pushed gold prices to a four-month high.
CBOE Volatility Index (VIX), the market's fear gauge, jumped another 4.24% on the day.
What Moved the Markets Today: The Swiss National Bank (SNB) stunned the world today when it abandoned its currency policy to prevent significant euro depreciation. The news sent shockwaves across markets and into the boardroom of every macro hedge fund and currency trading office in the world.
On the home front, U.S. data continued to drag on the markets. Initial jobless claims for state unemployment benefits rose by 19,000 to a seasonally adjusted 316,000 for last week. This is a steep increase over economist expectations. Meanwhile, Brent crude oil prices slipped more than 2%, falling to $47.68 per barrel, while West Texas Intermediate oil prices slipped nearly 4.2% on the day to hit $46.46.
Here's a breakdown of today's other top stories and stock performances:
Now our experts share some of the most important investment moves to make based on today's market trading - for Money Morning Members only:
How the Terrorism "Trend" Is Moving Your Money Today: The recent terrorist attack in Paris has spurred the need for a difficult conversation. Here's the thing: The tragic irony in the financial world is that terrorism actually creates far more opportunity than it destroys. Money Morning Chief Financial Strategist Keith Fitz-Gerald explains what this means for your money in 2015 and beyond...
CES 2015: How to Profit from the Hottest Tech Trends: According to the Consumer Electronics Association trade group, Americans will buy 1.43 million UHDTV sets, or roughly 5% of televisions sold nationally, in 2016. That's a 60-fold increase from 2013, when UHDTVs debuted. And of course, there's big profit potential in all those UHDTVs our fellow Americans will be buying. So hit the floor of the Consumer Electronics Show 2015 with Money Morning Tech Specialist Michael A. Robinson to start profiting today...
Why the 'Big Money' Still Believes in Auto Stocks: U.S. auto sales were up big in 2014 and are expected to stay strong in 2015.Oil prices have collapsed and are expected to stay low, fueling demand for pickup trucks, SUVs, and RVs... Indeed, signs of a boom time for the American auto industry appear aligned, but auto stocks are trading at depressed values compared to the rest of the market. Are auto stocks ripe to buy, or are they simply a value trap? Here's the real answer.
About the Author
Garrett Baldwin is a globally recognized research economist, financial writer, consultant, and political risk analyst with decades of trading experience and degrees in economics, cybersecurity, and business from Johns Hopkins, Purdue, Indiana University, and Northwestern.