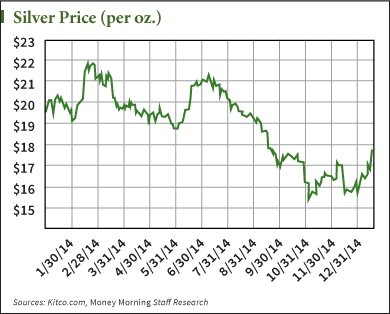 Silver prices today are steadying at levels not seen in months.
At Friday's close, silver prices were up to $17.78 an ounce. The spot price of silver hasn't traded this high since Sept. 2014. This five-month high is no doubt a welcome change from the six months of decline where the white metal fell as much as 30%.
Silver prices in 2015 are up 13.4%. And alternative silver investments like silver exchange-traded funds are up as well.
The iShares Silver Trust (NYSE Arca: SLV), among the most popular silver ETFs, was up 12.5% at yesterday's close.
Investors are wondering: why are silver prices up? And why now?
There are a couple of factors buoying the price of silver that explain why silver was up more than 7% last week.
Stay ahead of the scammers: Get this report on seven ways to make sure your physical gold is not counterfeit…
What's Boosting Silver Prices Today
The silver bears are slowly leaving the market. To understand why silver prices are up this week, we first turn to the speculator market. The bearish speculation for silver futures, after staying rather elevated for the latter half of 2014, is finally hitting more reasonable levels. As of Jan. 13, the Commodity Futures Trade Commission (CFTC) reports that speculators are holding 99.4 million ounces of silver short. That's the lowest level of short interest in silver since Aug. 2014, when prices were hovering around $20. Speculators had shorted as much as 258.6 million ounces in late October, which also happened to be the heaviest volume of short interest in CFTC recorded history.
Gold is surging, and silver is hanging on for the ride. Silver prices move with gold prices. As economic conditions draw investors to gold as either a hedging vehicle or a safe haven, silver gets some residual interest. Gold prices are up about 8% this year, and gold mining stocks are also getting a boost. In fact, Money Morning's 2015 stock picks are seeing a lot of gains out of our favorite gold plays. Check out our top stocks for 2015 here…
The Swiss National Bank plays the wild card. Markets were shaken yesterday (Thursday) after a surprise announcement by the Swiss National Bank. The SNB said that after three years of pegging its currency to the euro at a rate of 1.2 CHF/€, it was going to let the currency float. This immediately sent the Swiss franc down about 20% against the euro. The Dow Jones Industrial Average fell more than 100 points on the day as investors panicked. Silver served as a safe haven for markets taken off guard by the move.
Silver Price Forecast 2015: Money Morning Resource Specialist Peter Krauth sees 2015 as a good year for silver. To find out just how far he sees the white metal heading, check out his 2015 forecast…