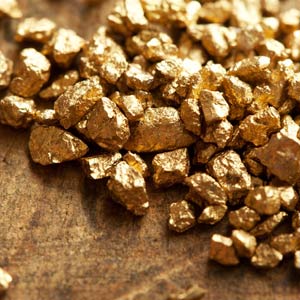 A major change will hit the gold market Friday, Jan. 30 when the last ever gold forward offered rate (gold forward rate or GOFO for short) is published.
These key benchmark numbers have been published by the London Bullion Marketing Association (LBMA) for more than 20 years.
Although many gold investors aren't aware of GOFO, its elimination will affect them. To understand just how much, first it's important to know exactly what gold forward rates are…
What Is the Gold Forward Rate?
GOFO is the swap rate for a gold-to-U.S. dollar exchange. It was created in 1989 to stymie manipulation of the rate given to customers who borrow gold.
For instance, if you own gold and you want to borrow dollars, you can use gold as collateral to secure the loan, much in the same way you can use a house. The GOFO is the interest rate you pay on that loan.
"Gold is arguably the best collateral – it's liquid, easy to transport, and easy to sell," Anthem Vault founder and CEO Anthem Blanchard told Money Morning Jan. 6. "Gold forward rates show you, on a very large commercial basis, what kind of secured loan interest rate you should receive, and for how long."
For twenty years, the LBMA has published values for one-month, two-month, three-month, six-month, and 12-month GOFOs. Typically, GOFOs are positive. But right now, some rates are negative – indicating people are willing to pay interest to borrow gold, using U.S. dollars as collateral.
Here are the GOFO values as of Dec. 31 (the most recent dataset):
| | |
| --- | --- |
| GOFO | VALUE |
| Forward Rate 1-Month | -0.04% |
| Forward Rate 2-Months | -0.02% |
| Forward Rate 3-Months | 0 |
| Forward Rate 6-Months | 0.03% |
| Forward Rate 12-Months | 0.14% |
That means right now, there's high demand for physical gold.
"When the 12-month rate is around zero, that's significant because it indicates a person is willing to give you an interest free loan for a 12-month period as long as you're willing to give back collateral as gold," Blanchard said.
GOFO rates were also in negative territory in November 2014. On Nov. 28, the one-month GOFO rate was as low as negative 0.49 (0.45 lower than the current one-month negative value). The two-month reached -0.36, the three month -0.26, the six-month -0.1, and the 12-month was slightly positive at 0.03.
HSBC Bank said to Kitco the very low rate "implies that a counter party with a long position on gold can borrow money against their gold holdings at a better rate than that from the LIBOR market." LIBOR – the London Interbank Offered Rate – is the benchmark rate used by big banks to calculate interest rates on various loans throughout the world.
"This suggests that physical demand for the yellow metal has outpaced paper demand. Physical buyers have responded positively to cheaper prices despite continued liquidations from the gold exchange-traded funds," HSBC said.
Indeed, negative GOFO rates signaled high physical demand, which was reflected in gold prices during the same period. The price of gold declined 15.1% to $176 an ounce between July 12 and Oct. 31. Cheaper prices then coincided with the fall months' typically heavy demand. The gold price per ounce climbed 4.3% to $52.75 between Nov. 1 and Dec. 12: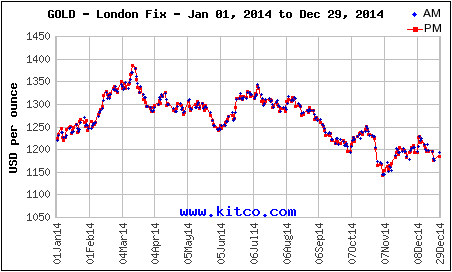 But as of Feb. 1, the gold forward rate benchmark will no longer exist.
The LBMA nixed the benchmark after two banks, Deutsche Bank and Société Générale, decided to leave the GOFO rate-setting process in October 2014. The two banks pulled out in line with broader strategies to scale down their involvement with precious metals, according to The Bullion Desk.
The exit left only six members in the rate-setting process: Bank of Nova Scotia, Barclays Bank Plc., HSBC Bank USA London Branch, Goldman Sachs, JPMorgan Chase, and UBS AG.
"We were reaching a point where losing another member would mean losing critical mass and not being able to calculate a mean," an LBMA spokesman told FastMarkets on Dec. 5.
The end of gold forward rates means three important things for gold investors…