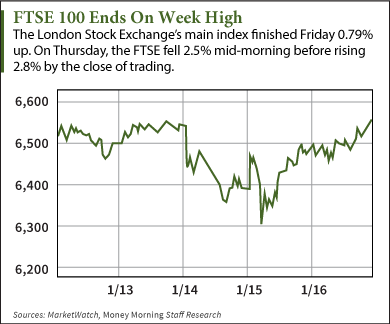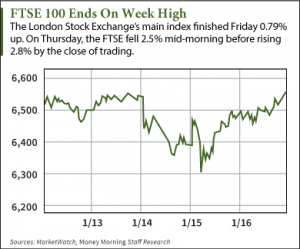 Swiss stocks were hammered after the Swiss National Bank (SNB) tossed its three-year-old price cap of 1.20 Swiss francs per euro – but these numbers show other markets didn't do so badly…
Turns out Switzerland bit off more than it could chew. The country's SMI Index slid 5.96% to 7,899.59. Nestle SA, one of the SMI's largest companies by market cap, fell 1.4% Friday.
"Today's SNB action is a tsunami; for the export industry and for tourism, and finally for the entire country," Swatch Group AG Chief Executive Officer Nick Hayek told Bloomberg on Thursday.
The news initially drove global banks and markets into turmoil. But after oil and commodities slightly recovered, shares ended the week on a good note. London's FTSE 100 gained a solid 0.79%. Germany's DAX index grew 1.35% despite dropping 250 points minutes after the news hit. And France's CAC 40 closed up 1.31% at 4379.62.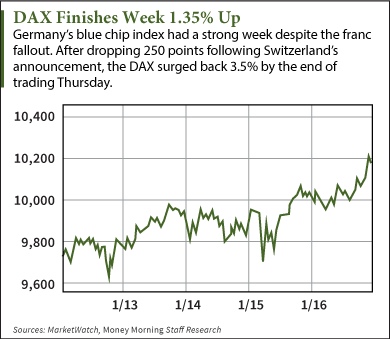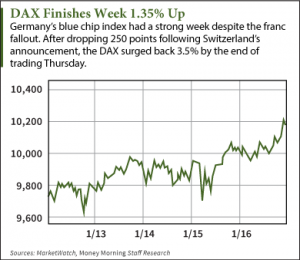 Even the Dow gained 230 points or 1.3% by the closing bell Friday.
The cap scrap saw the Swiss franc boom. But it left other currencies in their own holes.
Minutes after the announcement, the Swiss franc jumped by about 30% against the euro. The franc broke past parity to trade at 0.805 per euro. The franc then cut those gains to trade 13% higher at 1.040. The currency gained 25% against the U.S. dollar before falling back to 12% higher at 0.901 francs per dollar.
There are two big reasons why oil will rebound in 2015. In fact, these factors are why long-time oil veterans aren't worried about the price plunge… Take a look at the truth about oil.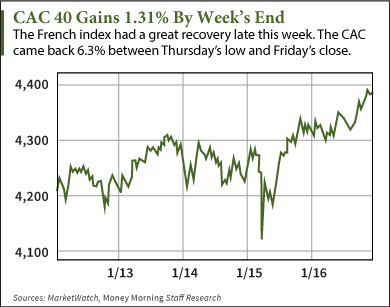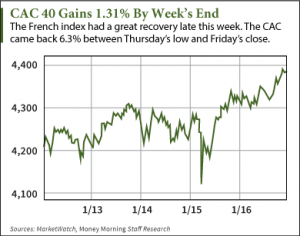 The shock decision hit global banks with massive widespread losses. Deutsche Bank AG lost $150 million. Barclays Plc. saw tens of millions of dollars in losses.
The losses for Deutsche Bank and Barclays stems from their traders' options tied to the currency. The value of those options is directly affected by market volatility and the Swiss franc exchange rate. That means the abrupt change in those two factors caused instant losses for the banks.
The SNB's decision came one week before the ECB's meeting to discuss new stimulus. This includes quantitative easing, which may add pressure on the franc against the euro.
2015 Euro Forecast: The euro is headed for multiyear lows. But yields can still be made. And one exchange-traded fund will benefit from the euro's plunge…
Related Articles: