We talk about why you should always be in the stock market (and NOT for the same reasons Wall Street wants you in, either). That's because being in the markets allows you tap into the inevitable growth that comes from capitalism and, by implication, humanity's upside.
Lately, though, people are beginning to doubt the premise behind that Total Wealth tactic.
That's due partly to recent trading action (which is unsettling), and partly due to the hype surrounding various indicators that are almost "guaranteed" to show a looming meltdown (which is unnerving).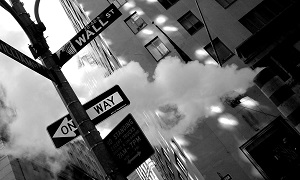 Right now the scary indicator making the rounds is record "total margin debt." Chances are you've probably seen the emails, too.
According to the New York Stock Exchange, investors have borrowed more than $457 billion against their brokerage accounts as of November 2014 - a new record. The social meme - the mantra, if you will - is that so much debt is unsustainable, and that it potentially undermines the entire market.
I get that... debt is a four-letter word after all, especially when it comes to the central bankers and Wall Street fat cats. But this is different.
In fact, I'd even go so far as to chalk this up to another case of "it isn't what it seems."
Here's the truth about this "meltdown" indicator.
Putting $457 Billion of Debt into Context
Total margin debt isn't a statistic that's calculated out of thin air. In that sense, it's really nothing new.
Every New York Stock Exchange Member Firm is required to report total outstanding borrowing held against client accounts on a monthly basis and has been since passage of the SEC's rule 606 in 2005. That way, the exchanges and regulatory agencies can track potential exposure and liquidity problems by determining who is leveraged up to their eyeballs and who is not.
This is important because it is the brokers and ultimately the financial intermediaries who will have to make good on any default. You could argue that lately this risk has been shifted onto the American public and I wouldn't disagree - but let's save that for another time.
The thinking is that margin debt goes up because investors are becoming more aggressive and using that money to buy additional securities. That somehow it's an irrational acceptance of risk or complacency.
In reality, though, there's nothing unusual about margin levels that have risen to where they are today. I'd even go so far as to say that while it's imprudent, it's not illogical. When money costs nothing, people are going to borrow as much as they can. And you can thank the Fed for that little gem, via its zero-interest-rate policies.
I know the chart below looks scary but, again, everything is not what it seems...
Join the conversation. Click here to jump to comments…
About the Author
Keith is a seasoned market analyst and professional trader with more than 37 years of global experience. He is one of very few experts to correctly see both the dot.bomb crisis and the ongoing financial crisis coming ahead of time - and one of even fewer to help millions of investors around the world successfully navigate them both. Forbes hailed him as a "Market Visionary." He is a regular on FOX Business News and Yahoo! Finance, and his observations have been featured in Bloomberg, The Wall Street Journal, WIRED, and MarketWatch. Keith previously led The Money Map Report, Money Map's flagship newsletter, as Chief Investment Strategist, from 20007 to 2020. Keith holds a BS in management and finance from Skidmore College and an MS in international finance (with a focus on Japanese business science) from Chaminade University. He regularly travels the world in search of investment opportunities others don't yet see or understand.