The 2015 State of the Union Address (scheduled for Tuesday, Jan. 20 at 9:00 p.m. EST) has investors across the country awaiting President Obama's new tax policy.
The new tax plan is without question the biggest issue tonight. The president is reportedly looking to raise an additional $320 billion in taxes.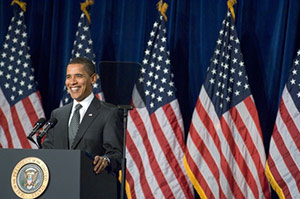 Aside from taxes, other big topics on the table include U.S. markets and unemployment. Since last year's State of the Union Address, the Dow Jones is up 6.4%. The jobless numbers have gone from a 6.6% unemployment rate in January 2014 to 5.6% as of December 2014.
Also to be discussed will be new cybersecurity plans, income inequality policies, and retirement planning.
This is President Barack Obama's sixth State of the Union – but it's the first time he'll deliver the speech to a Republican-controlled Congress. There's no doubt he'll hear less applause from Congress than he has in his five previous addresses.
Here are the top seven things for investors to watch in the 2015 State of the Union Address…
Our List of Must-Watch Topics in the 2015 State of the Union Address
Billions in Tax Hikes: The biggest SOTU story to watch is the proposed tax increases for America's top earners. This new tax policy will almost certainly draw the ire of Republicans in Congress…President Obama is expected to raise the capital-gains tax rate on couples earning more than $500,000 a year from 23.8% to 28%. The increase would raise an additional $320 billion over 10 years.The stat that Republicans will focus on is that when President Obama entered office, the capital gains rate was 15%."Slapping American small businesses, savers, and investors with more tax hikes only negates the benefits of the tax policies that have been successful in helping to expand the economy, promote savings, and create jobs," Chairman of the Senate Finance Committee and Republican Orrin Hatch said this weekend. "The president needs to stop listening to his liberal allies who want to raise taxes at all costs and start working with Congress to fix our broken tax code."Meanwhile, Democrats will point out that the U.S. had a 28% rate during Ronald Reagan's presidency.
Attempts to Fix Income Inequality: President Obama also wants cheers for middle class financial support. That means you can expect to hear about tax credits.One tax credit will be for middle-class families with working parents. Families that earn less than $210,000 per year – and where both spouses work – will receive a $500 credit. These families can also expect a break for childcare expenses. Finally, those paying for higher education will get a break."What you're seeing here is really dedicated middle-class tax relief to really get at that problem of middle-class wage stagnation," the Center for American Progress's Director of Fiscal Policy Harry Stein told Bloomberg.
Not a Money Morning Member? Take a couple of seconds to sign up to see the five other must-watch topics in today's SOTU. Membership is completely free…