Today's State of the Union 2015 address marks the sixth time U.S. President Barack Obama will address the nation's condition and outline his legislative agenda.
He will touch on a major tax overhaul, cybersecurity, and of course, economic recovery. We can expect employment to be, yet again, a top theme (get the seven top money topics to be discussed here). In fact, to date, the president has uttered the word "jobs" 152 times total across his SOTU speeches.
But serious issues aside, we know that millions of television viewers (33.3 million in 2014) watch the State of the Union for more than intellectual debate...
They also tune in for a little social experiment. You see, when you round up a heavily fractioned 535 Members of Congress and notable figures from other branches in one room, then force them to listen to a speech from our lightning-rod president, it is nigh-guaranteed some antics will occur.
So we compiled the top five most entertaining things we hope to see from the crowd when we tune in to State of the Union 2015.
State of the Union 2015: This Year's Crowd Better Deliver...
Things We Hope to See from SOTU 2015  No. 1: A Sleeping Supreme Court Justice
She did it in 2010.
She did it again in 2013... and yet again in 2014.
Eighty-one-year-old Supreme Court Justice Ruth Bader Ginsburg has a sordid history of "resting her eyes" at past State of the Unions.
In a 2010 interview with NPR's Nina Totenberg, Ginsburg said that the justices typically have dinner and drinks before the State of the Union address. That's why the famously sharp justice sometimes needs a little help staying awake.
"This year it was my colleague Justice Stephen Breyer... he was not as effective as my colleague Justice David Souter - at the first sign, he'd give me a solid pinch."
No reason to think otherwise this year. Watch for a slumbering Ginsburg on Tuesday.
Things We Hope to See from SOTU 2015 No. 2: Biden's Clowning
Buzzfeed collected some killer images of Vice President Joe Biden in last year's State of the Union.
For instance, the Pennsylvania-born democrat jostled his grumpy-looking republican seatmate, Speaker of the House John Boehner (R-Ohio):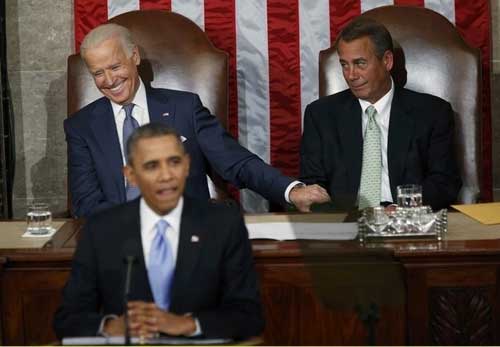 He showed some love when his commander-in-chief talked about the First Lady. Biden spied her in the gallery and shot this warm smile her way:
But our favorite was this fantastic grin moment: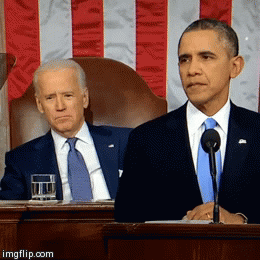 Watch for more appearances by Biden's pearly whites in State of the Union 2015...