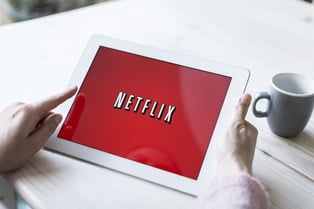 Netflix Inc. (Nasdaq: NFLX) stock climbed 13% after-hours today (Tuesday), after the company smashed Q4 earnings estimates.
NFLX reported earnings per share (EPS) of $0.72, topping analysts' predictions of $0.44.
Revenue came in at $1.48 billion for the quarter. That was slightly under the $1.49 billion estimate.
The stock climbed over the $392 barrier after-hours for the first time since October.
Before today, NFLX stock had tanked more than 29% in the last four months.
One of the biggest numbers today was Netflix's user growth. The company added 4.33 million members in Q4 bringing its global total to 57.4 million. Netflix officials had previously estimated a total of 57 million for the end of 2014. For the full-year 2014, Netflix added 13 million customers. That was up from 11.1 million in 2013.
A big part of that growth was international expansion. The company added 2.43 million members from international markets in Q4. That compares to just 1.74 million the year before. The company now plans to complete its international expansion within two years.
Domestic growth topped estimates as well. In Q4, 1.9 million Americans joined Netflix. Analysts had estimated growth of 1.85 million. However, that figure is down greatly from last year when the company added 2.3 million U.S. customers.
There was another announcement in today's report that is sure to grab headlines. Netflix will begin streaming Sony Corp.'s (NYSE ADR: SNE) "The Interview" on Jan. 24. The film has received global attention since the Sony hack in late November.
Today's big gain for Netflix stock is not surprising. According to CNBC, NFLX averages a 14% move following earnings reports. Last quarter, shares dipped more than 25% in after-hours trading.
And while many of today's numbers are encouraging, don't be fooled. There are still plenty of problems ahead for NFLX stock in 2015…
How to Play NFLX Stock After Earnings and in 2015