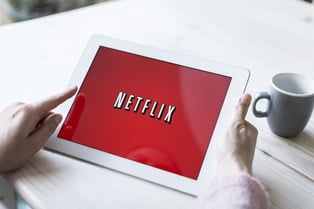 Netflix Inc. (Nasdaq: NFLX) stock climbed 13% after-hours today (Tuesday), after the company smashed Q4 earnings estimates.
NFLX reported earnings per share (EPS) of $0.72, topping analysts' predictions of $0.44.
Revenue came in at $1.48 billion for the quarter. That was slightly under the $1.49 billion estimate.
The stock climbed over the $392 barrier after-hours for the first time since October.
Before today, NFLX stock had tanked more than 29% in the last four months.
One of the biggest numbers today was Netflix's user growth. The company added 4.33 million members in Q4 bringing its global total to 57.4 million. Netflix officials had previously estimated a total of 57 million for the end of 2014. For the full-year 2014, Netflix added 13 million customers. That was up from 11.1 million in 2013.
A big part of that growth was international expansion. The company added 2.43 million members from international markets in Q4. That compares to just 1.74 million the year before. The company now plans to complete its international expansion within two years.
Domestic growth topped estimates as well. In Q4, 1.9 million Americans joined Netflix. Analysts had estimated growth of 1.85 million. However, that figure is down greatly from last year when the company added 2.3 million U.S. customers.
There was another announcement in today's report that is sure to grab headlines. Netflix will begin streaming Sony Corp.'s (NYSE ADR: SNE) "The Interview" on Jan. 24. The film has received global attention since the Sony hack in late November.
Today's big gain for Netflix stock is not surprising. According to CNBC, NFLX averages a 14% move following earnings reports. Last quarter, shares dipped more than 25% in after-hours trading.
And while many of today's numbers are encouraging, don't be fooled. There are still plenty of problems ahead for NFLX stock in 2015...
How to Play NFLX Stock After Earnings and in 2015
Across the board, Money Morning experts strongly dislike NFLX stock right now. And the biggest reason is its international losses.
The company may be adding users internationally, but it keeps losing more and more money there.
In today's report, NFLX's international losses were $79 million. Last quarter, Netflix reported international losses were $31 million. The quarter before that they were $15 million.
[epom key="ddec3ef33420ef7c9964a4695c349764" redirect="" sourceid="" imported="false"]
"I would not touch Netflix with a 10-foot pole," Money Morning's Technical Trading Specialist D.R. Barton said on FOX Business this month. "I love their content, but their transition from being just an Internet video provider to being an online television content provider has really cranked up their expenses."
Netflix has been throwing off major warning signs for some time.
"In their last earnings report, they dropped their forward guidance by about 48% versus analysts' expectations," Barton said. "They've also had some expenses coming online from trying to bring Western Europe in."
Money Morning's Capital Wave Strategist Shah Gilani shared similar sentiments on FOX Business this month as well.
"I wouldn't want to own a stock with a 4.5% profit margin and a price earnings multiple of 80," he said. "It makes no sense to me. Again, NFLX stock doesn't yield me anything to hold it."
And that's not the only reason Gilani is bearish.
"If you look at its graph, it's way below its 200-day moving average," Gilani said. "For me, that's a benchmark for the long-term viability of holding a company's stock. It looks, frankly, terrible."
"All of these things come together to show us that Netflix is not a stock you want to be in for 2015," Barton said.
The Right Way to Invest in Tech: Money Morning's Defense and Tech Specialist Michael Robinson was at the Consumer Electronics Show 2015 earlier this month, following the hottest trends on the market. And after seeing some of this year's breakthroughs, Michael knows that now more than ever, the road to wealth is paved by tech. Here are the stocks with the biggest profit opportunities in the tech field now...