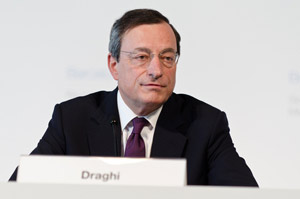 Stock market futures today (Wednesday) forecasted a 74-point decline from yesterday's close on weak fourth-quarter revenues from tech giant International Business Machines Corp. (NYSE: IBM).
The Dow Jones Industrial Average (DJIA) reversed early losses on Tuesday to finish the day up three points. Gold prices jumped more than 1% on Tuesday, hitting a five-month high. Growing concern over global currencies and expectations for a pending stimulus program at the European Central Bank are pushing investors back into metals.
Last week's Swiss National Bank shock taught us two important lessons, but today investors will focus on a critical announcement set for tomorrow from the European Central Bank. Thursday, the ECB is expected to announce its own massive bond-purchasing program to stimulate the currency bloc's dragging markets. Concerns about deflation and falling oil prices have compounded. However, if the ECB balks and shocks the market like the Swiss Bank did, we could see significant volatility in the short term.
Here's what else you should know about the stock market today - including your "Money Morning Tip of the Day" - to make it a profitable Wednesday:
"The State of Our Union is... strong," said President Barack Obama during Tuesday night's State of the Union Address. During the one-hour speech, President Obama laid out a strongly progressive agenda last night, calling for universal community college, increased taxes on the nation's wealthiest members, advanced legislation on environmental challenges, and net neutrality. For a breakdown of what each proposal means for investors, be sure to read our breakdown right here.
Tech Trouble: Shares of IBM slipped more than 2.3% in pre-market hours after the tech giant reported stronger-than-expected quarterly earnings, but saw revenues decline in the fourth quarter. IBM said fourth-quarter per-share earnings hit $5.81, besting Wall Street expectations by a significant margin. However, the company offered weak forward guidance for 2015, sapping optimism for one of the Dow's largest components. To see why IBM is in the trouble it's in right now, take a look at our analysis of the IBM's Q4 earnings...
Tax Reform: In a follow-up to the State of the Union, Treasury Secretary Jack Lew said that the U.S. should slash its corporate tax rate from 35% to 28% while slashing loopholes. In a speech to the Brookings Institution, Lew also argued for the creation of a new minimum tax on foreign earnings to ease the process of repatriating income from abroad.
Streaming Profits: Shares of Netflix Inc. (Nasdaq: NFLX) jumped more than 16% in post-market hours on news that the company widely beat earnings expectations and added 4.3 million subscribers in the fourth quarter. Netflix said that fourth-quarter revenues increased by more than 26%. The firm said that international growth was expanding at a faster pace than previously expected. The streaming company now has more than 57 million subscribers worldwide. Money Morning urges you not to buy into the optimism...

[epom key="ddec3ef33420ef7c9964a4695c349764" redirect="" sourceid="" imported="false"]

Stocks to Watch: Shares of Walgreens Boots Alliance Inc. (Nasdaq: WBA) on news that its parent, Walgreen Co., entered an agreement with Madison Dearborn Partners, under which the private equity firm will purchase a majority stake in Walgreens Infusion Services. Following the closure of the deal, the infusion unit will become an independent, privately held company. Terms of the deal were undisclosed.
Oil Prices Today: This morning, March 2015 futures for U.S. crude, priced at the NYMEX in New York City, increased by nearly 1% to hit $46.97 per barrel. Meanwhile, Brent crude, priced in London, jumped about 1.3% to hit $48.65 per barrel.
Full U.S. Economic Calendar January 21, 2015
MBA Purchase Applications at 7 a.m.
Housing Starts at 8:30 a.m.
Redbook at 8:55 a.m.
4-Week Bill Auction at 11:30 a.m.
About the Author
Garrett Baldwin is a globally recognized research economist, financial writer, consultant, and political risk analyst with decades of trading experience and degrees in economics, cybersecurity, and business from Johns Hopkins, Purdue, Indiana University, and Northwestern.