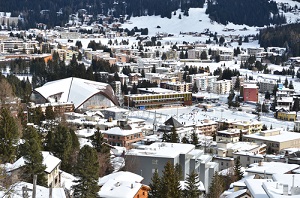 Top Financial News: The World Economic Forum kicked off today (Wednesday) in Davos, Switzerland, and the ideas emerging from it have made headlines across the financial press.
So, what is the World Economic Forum? And what is Davos?
The World Economic Forum is an annual gathering of the world's top leaders and thinkers. They discuss myriad topics ranging from world finance to geopolitics. There are panels, debates, Q&As, and speeches.
Davos hosts a diverse cast. You have tech CEOs like Yahoo's Marissa Mayer and Microsoft's Bill Gates. And you have economic leaders like International Monetary Fund Chief Christine Lagarde. There are world leaders like former U.S. Vice President Al Gore and current Rwandan President Paul Kagame. Even entertainers, such as rapper will.i.am, turn up.
But the novelty of Davos wears thin quickly. To see singer Pharrell Williams talk global warming in the same conference that a Saudi prince talks good governance is certainly not something you see every day. But it's also an example of what the World Economic Forum is at its core.
Basically, it's a gathering of the world's economic elites yukking it up in one of the world's most expensive European resort towns.
While economically stressed Greek voters ponder whether to turn to "far-left" parties for relief, Al Gore and former Mexican President Felipe Calderon pat each other on the back over a $90 trillion proposal to build a carless world.
The last thing a struggling Eurozone is thinking about right now is Gore's brave new world of low carbon emissions. They want jobs. They want real growth. And they want something done about deflation, which now threatens the world's largest currency bloc.
Yet, for the most part, Davos' meetings today didn't concern themselves with the troubles in the Eurozone. At least not to the extent a venue looking to "improve the state of the world by serving as a trusted partner of all the stakeholders of global society" should.
But in defense of the World Economic Forum, it is four days long.
And the remaining days promise to provide a better discussion on topics that really matter.
Here's the financial news from the Davos conference you should be looking out for in the days ahead...