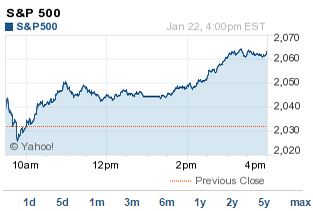 The S&P 500 and other major benchmarks soared today on news the European Central Bank (ECB) has launched a massive bond-purchasing program. The U.S. dollar hit an 11-year high against the euro on the news.
Today's Scorecard:
Dow: 17,813.98, +259.70, +1.48%  
S&P 500: 2,063.15, +31.03, +1.53%
Nasdaq: 4,750.40, +82.98, +1.78%             
What Moved the Markets Today: Investors were shocked to hear the ECB's stimulus package will clock in at 60 billion euros a month, up from the 50 billion euros a month many had anticipated. The bank also said it will keep interest rates unchanged. But investors did have reason to remain cautious about the U.S. economy. Jobless claims continue to tick upward. For the third straight week, Americans seeking unemployment benefits exceeded 300,000. A number of corporations like American Express Co. (NYSE: AXP), Baker Hughes Inc. (NYSE: BHI), and Halliburton Co. (NYSE: HAL) have all announced steep layoffs heading into 2015.
Now, check out the other top stories from the stock market today:
[epom key="ddec3ef33420ef7c9964a4695c349764" redirect="" sourceid="" imported="false"]
Now our experts share some of the most important investment moves to make based on today's market trading - for Money Morning Members only:
How the Terrorism "Trend" Is Moving Your Money Today: The recent terrorist attack in Paris has spurred the need for a difficult conversation. Here's the thing: The tragic irony in the financial world is that terrorism actually creates far more opportunity than it destroys. Money Morning Chief Financial Strategist Keith Fitz-Gerald explains what this means for your money in 2015 and beyond...
CES 2015: How to Profit from the Hottest Tech Trends: According to the Consumer Electronics Association trade group, Americans will buy 1.43 million UHDTV sets, or roughly 5% of televisions sold nationally, in 2016. That's a 60-fold increase from 2013, when UHDTVs debuted. And of course, there's big profit potential in all those UHDTVs our fellow Americans will be buying. So hit the floor of the Consumer Electronics Show 2015 with Money Morning Tech Specialist Michael A. Robinson to start profiting today...
Why the 'Big Money' Still Believes in Auto Stocks: U.S. auto sales were up big in 2014 and are expected to stay strong in 2015. Oil prices have collapsed and gasoline prices are at their lowest in years, fueling demand for pickup trucks, SUVs, and RVs... Indeed, signs of a boom time for the American auto industry appear aligned, but auto stocks are trading at depressed values compared to the rest of the market. Are auto stocks ripe to buy, or are they simply a value trap? Here's the real answer.
About the Author
Garrett Baldwin is a globally recognized research economist, financial writer, consultant, and political risk analyst with decades of trading experience and degrees in economics, cybersecurity, and business from Johns Hopkins, Purdue, Indiana University, and Northwestern.