Money Morning's "unloved" stock to buy this week is smart Wi-Fi technology provider Ruckus Wireless Inc. (NYSE: RKUS).
An unloved investment is one that's been beaten down – but is actually a great value. Investors then get an amazing entry point into a good long-term investment.
Ruckus stock came to the attention of Money Morning Defense & Tech Specialist Michael Robinson in late September. He liked the fact that RKUS supplies a technology that will soon be in very high demand.
Ruckus Wireless: About the Company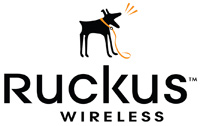 Founded in 2004, Ruckus Wireless started out serving the residential Wi-Fi market. In the decade since, the Sunnyvale, Calif.-based company evolved into a global supplier of advanced wireless technology to cities and corporations. Ruckus sells high-capacity Wi-Fi access points as well as cloud-based Wi-Fi access and location services. RKUS is best known for a technology it calls "Smart Wi-Fi."  It's designed to work in dense and noisy areas such as urban centers and stadiums. The company's 44,000 clients include such familiar names as Sprint Corp. (NYSE: S), Time Warner Cable Inc. (NYSE: TWC), and LaQuinta Holdings, Inc. (NYSE: LQ). Ruckus stock went public in November 2012. RKUS employs about 800 people. It has a market cap of $800 million.
Ruckus Stock: Why It's Unloved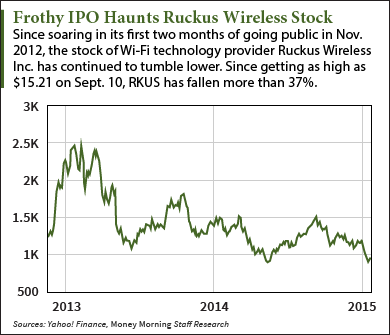 Among other things, Ruckus stock is suffering a long-running hangover from an overpriced IPO. In the two months after it went public, RKUS stock soared by more than 100%. But six months later, Ruckus stock was down 50%. It sank as low as $10.24, well below the $15 offer price. RKUS has bobbed up and down since, and as of today (Friday) had skidded to $9.94. More recent catalysts include a slight miss in its 3Q earnings. Ruckus reported revenue of $85 million, but the Wall Street consensus was for $85.1 million.
"As we have seen before, the market overreacts to even the slightest of misses," said Robinson. "And that's clearly the case here."
But that was back on Nov. 3. Since then a string of insider selling reports have pummeled Ruckus stock. Since Nov. 7, Ruckus has had no less than 12 instances of insider selling. The four that have come after the first of the year have been particularly damaging, pushing RKUS stock down more than 18%.
But the prospects for Ruckus stock are better than many seem to think…
Why Ruckus Is a Stock to Buy