Saudi King Abdullah bin Abdulaziz passed away late Thursday at age 90 after a short illness.
His death triggered the biggest challenge to the Saudi dynasty in 50 years...
You see, the founder of the Saudi state, King Abdulaziz ibn Saud, decreed only that his first son would inherit the throne.
And Saudi law stipulates only that the throne passes to the "most upright" of the sons and grandsons of the kingdom's founder.
Over the six decades that have followed King Abdulaziz ibn Saud's rule, succession has passed from brother to brother, almost always in order of their age.
But the last of the current line of 35 brothers will soon die out completely.
That means for the first time in Saudi history, the throne will be passed to the third generation of the family...
Saudi Dynasty Succession Crisis
In 2005, Abdullah took the throne as Saudi Arabia's sixth king. His immediate successor was his half-brother, Crown Prince Salman. That's who took over today (Friday). But 79-year old Salman is in poor health - making his appointment seem like a stop-gap measure.
On top of that, Salman's successor and the new crown prince is Muqrin bin Abdulaziz - the youngest of Abdullah's half-brothers at age 69.
"Placing Crown Prince Salman and Prince Muqrin in line to succeed Abdullah effectively delays the time of reckoning when the next generation of princes, the founder's grandsons, will be moved into positions of high authority," The New York Times journalist Rick Gladstone wrote Jan. 2.
Check out this Saudi dynasty line of succession from Middle East research firm The Washington Institute. Note that Salman and Muqrin are among the "19 other surviving sons" in the final row: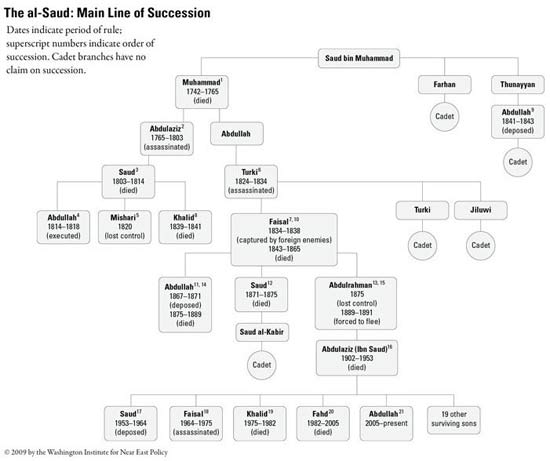 Once the Saudi succession reaches past Abdullah's brothers Salman and Muqrin, there are hundreds of potential heirs.
And that uncertainty poses a big problem.
"Whoever inherits the throne is likely to anoint his own brothers as future heirs, thereby cutting out multiple cousins from access to the throne and the patronage it provides," The Washington Post journalist Liz Sly wrote on May 26, 2014.
Freshly anointed King Salman wasted no time in shoring up the succession issue today...