Silver prices this week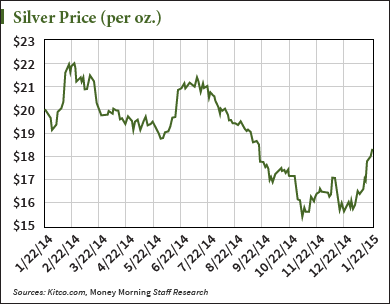 are up 3%.
That's just after a week where silver prices jumped 7.6%. This surge took the spot price of silver from $16.52 an ounce to $17.78. That's the most productive week-long advance for silver than any one week in 2014.
Silver prices this week are just continuing where they left off. They traded at $18.31 as of yesterday's close (Thursday). Silver hasn't traded this high since Sept. 2014.
So, what's driving silver prices this month? Here are the big factors in the past week...
Why Silver Prices Are Up This Week
Swiss National Bank unpegs currency. The biggest boost silver prices got so far this year was on last week's announcement by the Swiss National Bank. The SNB said it was going to let its currency float against the euro. Fears that a rapid appreciation would hurt its established exporters in 2011, the SNB fixed its currency to an exchange rate of 1.2 Swiss francs to 1 euro. As the month wore on, it became more obvious to the Swiss however that the European Central Bank was going to initiate a program of quantitative easing. Fearing that Eurozone QE would further devalue the euro, the SNB abandoned the peg so they wouldn't be forced to build up their reserves with a euro that was precipitously losing value.
"The franc's value immediately shot up 30%, but the international implications of the move were generally taken as bad - or at the very least, confusing - news, and Wall Street, along with other markets around the world, plunged," said Money Morning BioScience Investment Specialist Ernie Tremblay.
The panic that ensued had investors fleeing to safe haven assets. And as a result silver saw prices surge ahead $0.825 an ounce the day after the move. This nearly 5% jump was bigger than any one-day surge in 2014.
European Central Bank announces quantitative easing. After months of anticipation, ECB president Mario Draghi finally did it. He finally announced a massive sovereign government bond-buying program. He pledged to buy up a mixture of government bonds and other assets to the tune of 60 billion euros ($68 billion) a month. The mere expectation of Eurozone QE punished the euro. It was trading near 9-year lows even before Draghi made the announcement. But since the QE news, it's fallen even more. The expectation is that as a result, silver prices would fall. That's because a weakening euro means a strengthening dollar. And a strengthening dollar would not only make silver prices cheaper, but it would also prompt investors to put their money in dollar-denominated investments like stocks and bonds. This hasn't happened though. Silver is still surging, because of this third factor...