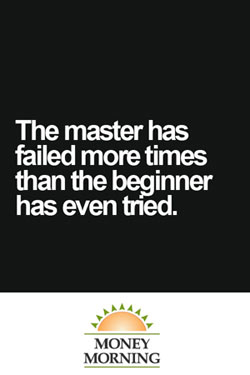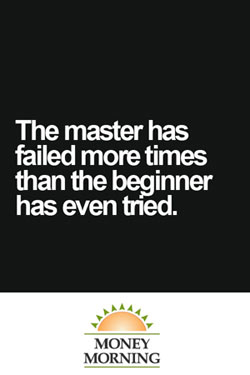 Huge Apple Inc. (Nasdaq: AAPL) earnings are due out Tuesday afternoon. Revenue is projected to come in at $67.5 billion in Q1 – more sales in a three-month period than Google Inc. generated in all of 2014.
Apple is swimming in cash now – but this masterful $650 billion tech giant had plenty of failures along its path to success.
These are some of the biggest Apple flops of all time…
7 Cringe-Worthy Apple Flops
Apple Flop No. 1: The Apple III, 1980
The idea for the Apple III was sound: a professional personal computer aimed at the enterprise market.
But ingenuity was lost in execution.
You see, Steve Jobs insisted on a chassis too small for the components required because he wanted a sleeker product. He also refused to let engineers install a cooling fan.
As a result, the motherboard would quickly overheat, causing chips to pop out of their sockets and the machine to malfunction. Trashed by the tech media of the day, the Apple III had lousy sales. That left the door open for the IBM PC, which arrived a year later and included Microsoft Corp.'s (Nasdaq: MSFT) PC DOS. When the Apple III was discontinued in 1984, only 65,000 units had been sold and AAPL was out $60 million.
What came next was not a product, but a decision that turned out much differently than Jobs had intended…
Apple Flop No.2:  The One-Button Mouse (1983-2005)
Jobs' belief in simplicity resulted in a years-long obsession with the one-button mouse. That was even after Windows PCs had proven the advantages of a multi-button device. Eventually Jobs gave in.
However, he instructed Apple engineers to come up with a unique, innovative design. And that became 2005's Mighty Mouse.
Apple Flop No. 3:  The "Hockey Puck" Mouse (1998)
Jobs really has had a bad history with mice.
While the original iMac series was the product that breathed new life into the company, the round-shaped mouse that came with it was one of Apple's most hated accessories. Users had a hard time grasping it and couldn't tell which way was up, which sent the cursor flying in unexpected directions.
Apple replaced it with the more conventional (but still single-button) Apple Pro Mouse in 2000.
Apple Flop No. 4:  The Power Mac G4 Cube (2000)
To his credit, Jobs has always sought elegance and simplicity in his products, a trait that gave us many of Apple's best ideas.