One out of every two Americans who purchased phones in the period from Oct. 1 to Dec. 31, 2014 bought an Apple iPhone (Nasdaq: AAPL).
A Jan. 23 report from Consumer Intelligence Research Partners (CIRP) showed Apple iPhones accounted for half of all U.S. phone activations in fourth quarter 2014. That's a 22% jump for AAPL's smartphone market share compared to Q3.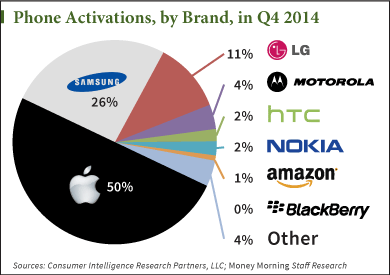 And as Apple picks up momentum, top tier smartphone competitors like Samsung are getting rolled. November 2014 research from Gartner showed Samsung owned 24.4% of the smartphone market worldwide in Q3 – down 7.6% from the year before.
CIRP attributes Apple's recent market share jump to its newest iPhone, the iPhone 6…
Apple iPhone Takeover
The record-breaking iPhone 6 debuted in stores in the United States Sept. 19 (or Sept. 12 for pre-orders).
AAPL sold 10 million phones that first weekend. And estimates peg Apple to have made 66.5 million iPhone sales in Q1 2015, due for release later today (Tuesday). That's up roughly 30% year over year, or around 15.5 million iPhones.
PROFIT ALERT: 33 million units of wearable tech devices shipped in 2014. That number is expected to rise to 50 million this year. A select group of companies will rake in the dough. Here are the wearable tech companies to keep your eyes on…
"Apple has leapt forward with the iPhone 6 – one of the best phones it's ever created," writes TechRadar. The technology review site applauds the iPhone 6's design, battery longevity, and improved keyboard. "This is a big departure for Apple, marking a time when it's admitted that the industrial, sharp design of the last four iPhone models is a little outdated and needs to up the ergonomics to really compete…Well, with the Apple iPhone 6 we're looking at one of the thinnest and sleekest handsets in the market."
And the iPhone 6's larger screen (on the "Plus" model) made major waves in Asia, where larger screens are very popular. A Jan. 21 report from Counterpoint Research shows Apple penetrated 12% of the Chinese smartphone market in November – up 45% from the same period the year before. That boosted Apple to the third best-selling phone maker in China (behind Chinese handset manufacturers Xiaomi and Lenovo).
Apple iPhone sales contribute more than half of Apple's earnings and revenue. Stay tuned to www.MoneyMorning.com this afternoon for Apple earnings.
And you can go here for a Q1 AAPL earnings preview right now…
Related Articles: