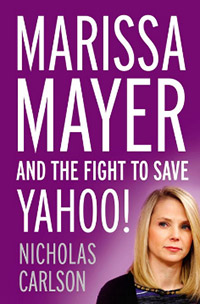 For Yahoo! Inc.  (Nasdaq: YHOO) shareholders, Nicholas Carlson's Marissa Mayer and the Fight to Save Yahoo! is a must-read. Carlson - of Business Insider - gives us a good look at the history of Yahoo.
This is especially valuable given how crucial Yahoo (Nasdaq: YHOO) earnings are today - and how crucial the next year of Yahoo quarterly earnings is going to be.
The Marissa Mayer book shows us Yahoo's transformation from a rather bland website directory dreamed up by two Stanford University students. We see its rise. We see its downfall. We see its failure to innovate in a changing digital landscape. And we see the succession of unsuccessful CEOs that ended up landing Marissa Mayer at the helm.
But the Yahoo book is more than a compelling story. It's the only true glimpse at how the inner workings of Yahoo operate. And as YHOO shareholders ponder what's next for the ailing tech giant, this book attempts to put together some of the puzzle pieces.
Here are the three most important takeaways from this book...
Yahoo Book Takeaway No. 1: Shareholders Are Losing Faith in Mayer
Eric Jackson is a big - if not largely overlooked - player in the unfolding Yahoo narrative. Major shareholders know he pulls a lot of weight. They have his ear. Jackson's columns at Forbes breathe voice into the sentiment of Yahoo shareholders that's typically shared behind-the-scenes.
He's not a big-name activist investor like Carl Icahn or Dan Loeb. But his efforts as a somewhat marginal shareholder to shape Yahoo to his liking did bear fruit in 2007. This was when he persuaded other shareholders to help push out former CEO Terry Semel.
Jackson exited his YHOO position in 2008, but burst back on the scene in 2011.
This was when he publicly announced that he was taking a new position in Yahoo. His reasoning? The market, unaware of the value of Yahoo's stake in Alibaba, was severely undervaluing the company's stock.
We know how that story ended. Yahoo has surged ahead more than 200% as a proxy investment for Alibaba.
So if a "major shareholder" tells Jackson he's lost faith in the company, and that conversation makes its way into what is right now the only book on Yahoo, you can be sure it's not the grumblings of one disgruntled shareholder. It's indicative of a much larger problem.
Yahoo Book Takeaway No. 2: Mayer Doesn't Do Media
Mayer is a left-brained CEO. She's exceptionally brilliant when it comes to sifting through data and web analytics to shape web products. She's so intelligent and thoroughly analytical on this front that she's often characterized as an idiot savant.
That may be pushing it. But the fact remains that she's CEO for that reason. She's product-focused.
During the CEO search in 2012, the Yahoo board was drawn to her for this reason. They wanted her methodical mind. They didn't want flamboyant and outspoken, like former CEO Carol Bartz. They got their fill of media moguls when they pushed out Terry Semel. And they effectively vetoed any future plans for Yahoo to become a media giant when they passed over Ross Levinsohn in the 2012 CEO search.